Ukrainian Prime Minister Viktor Yanukovych and his Russian counterpart, Mikhail Fradkov, made their remarks in the Russian Black Sea resort of Sochi.
The two prime ministers say they have agreed on a pricing mechanism for next year's deliveries of Russian gas to Ukraine. They also agreed on details concerning shipments of Russian gas going to Europe via Ukrainian pipelines.
Yanukovych says that the new pricing system is "transparent."
He also said that the main topic of today's talks -- whether Russia will raise its gas prices for Ukraine -- will be announced later.
Fradkov emphasized that Russia's gas policies will be determined by market conditions and by Ukraine's willingness to open up to Russian participation in its economy.
"We have a clear desire to find solutions to all of the difficult issues, but we must be guided by a market approach and by a willingness to clarify the prospects of developing our cooperation in the future in the field of gas and other sectors of the economies of our countries," he said.
Moscow briefly cut gas supplies to Ukraine in January during a price row, disrupting gas deliveries to Europe and raising questions about the reliability of Russian energy supplies.
(ITAR-TASS, Interfax, dpa)
Russia And Global Energy Security
Russia And Global Energy Security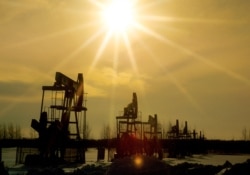 An oil field in Russia's Republic of Bashkortostan (TASS file photo)


ENERGY SECURITY is increasingly moving to the top of the EU's agenda in its dealings the outside world. A recent report identifies the European Union's main energy objectives as not just securing gas and oil deliveries from Russia, but also ensuring that it has reliable alternative sources, including in Central Asia. Nonetheless, EU officials say relations with Russia take center-stage in their thinking....(more)
RELATED ARTICLES
EU Maintains Codependent Energy Relationship With Russia
Turkmenistan: The Achilles' Heel Of European Energy Security
U.S. Official Urges Reforms In Energy-Producing Countries
ARCHIVE
A
complete archive
of RFE/RL's coverage of energy issues in the Caspian Sea region and Russia.