Britain, Canada, the Netherlands, and Germany all have recently ordered light armored vehicles to replace less-protected military transport in Afghanistan and Iraq. Freshly deployed Australian special forces also have brought about a dozen armored personnel carriers for their work in southern Afghanistan.
When U.S. forces invaded Iraq in March of 2003, the advance across the desert to Baghdad was spearheaded by Abrams M-1 tanks and Bradley armored personnel carriers.

U.S. tank commanders like Sergeant Jerold Pyle spoke confidently about their vehicles -- knowing that even the best Soviet-era tanks of Iraq's Republican Guard were no match for the Abrams.
"[Improvised explosive devices] are certainly the most lethal threat which the opposition forces are using -- both in Afghanistan and in Iraq."

"The Abrams tank in a battle? This is the heavy armor," Pyle told RFE/RL. "These are the killers. This is what the enemy is afraid of. The Abrams was made to fight the Soviet Union, designed back in the 1980s. It's been updated over the last 20 years until it's the best tank in the world. This is the heavy armor. This is the tip of the spear."

A few weeks later, however, when Pyle became one of the first U.S. soldiers to enter Baghdad, his tank was destroyed in an ambush by Iraqi ground troops using guerrilla tactics.

The lesson was clear for U.S. military planners. Heavy tanks, with their clanking metal tank treads and fuel-guzzling engines, can dominate a battlefield in the open desert. But many advantages are neutralized in an urban guerrilla war.

On The Ground In Afghanistan

U.S. military officials tell RFE/RL they did not deploy heavy armor into Afghanistan because its mountainous terrain isn't suitable for a tank campaign against guerrilla fighters. They say the main gun barrel of an Abrams tank often cannot be raised high enough to fire on targets at higher elevations in the mountains.

So for the last four years, U.S. soldiers in Afghanistan have conducted most lowland patrols in light armored cars called Humvees. Small commando teams also have been dropped off in the mountains by helicopter, relying on support from coalition aircraft instead of tanks when they engage militants in combat.


Countries like Germany, Canada, and Romania have provided some armored personnel carriers for ground troops in Afghanistan in the past. But there haven't been enough of those vehicles for the thousands of troops deployed this year as part of the NATO-led expansion into the south. The equipment sent in with many of the newly arriving troops has been chosen for speed and mobility rather than armor protection.
Thus, most ISAF troops in Afghanistan now rely on trucks or Land Rovers without adequate protection against the kind of attacks most often carried out by Taliban guerrillas.
Resurgent Violence
Facing a resurgence of violence by militants in southern Afghanistan, several countries in the NATO-led mission now recognize that their soldiers need more protection.
"The reason most of these armies are now buying new armored vehicles is these vehicles are specifically protected against land mines and improvised explosive devices [IEDs]," says Ian Kemp, an independent defense analyst based in London. "And the IEDs are certainly the most lethal threat which the opposition forces are using -- both in Afghanistan and in Iraq."
The governments of Britain, Canada, the Netherlands, and Germany have all faced domestic criticism in recent months for not providing their troops with enough armor. As a result, all have announced major purchases in recent weeks of light armor for Afghanistan.
Australia has deployed about a dozen Bushmaster armored personnel carriers for use by its special forces in Oruzgan Province.
The British Defense Ministry has ordered the most new vehicles -- 100 armored Pinzgauer Vectors purchased in July to bolster 66 bought by Britain earlier this year. Deliveries to Afghanistan are due to begin in 2007.
Speedy And Mobile
What Afghans will see on the desert plains of Helmand Province -- where the British are heavily deployed -- are vehicles that look more like six-wheeled camping vans than armored personnel carriers or tanks.
"It's an all-terrain vehicle, a cross-country truck to put it simply, called the Pinzgauer," Kemp says. "They're running on wheels. They're running on tires. [So] they can move at much greater speeds across roads [than tanks and other heavy armor]. What the company has done recently is develop an armored version. In extreme boggy terrain, it doesn't have the mobility of a tracked vehicle. But in an operation such as Afghanistan, most of the coalition forces are [now] deploying wheeled armored vehicles."
Kemp has been closely following how the tactics of Afghan and Iraqi guerrilla fighters have led to such acquisitions.
"There has been considerable criticism about the equipment of British forces both in Iraq and in Afghanistan," Kemp says. "Most of the equipment that is in service with the British Army was designed during the 1980s and the 1990s. The difficulty with them is they are quite heavy to ship and they are quite intimidating when they are actually used on operations. They also suffer from the fact that they are expensive to operate, being tracked vehicles. What the British Army is missing is the spectrum of light and medium armored vehicles."
Kemp says he thinks some of the new British Pinzgauers could eventually be left in Afghanistan to bolster the equipment of the Afghan National Army.
The Afghan Insurgency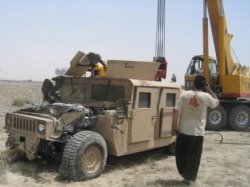 A U.S. military vehicle damaged by insurgents near Kandahar (epa)
HOMEGROWN OR IMPORTED? As attacks against Afghan and international forces continue relentlessly, RFE/RL hosted a briefing to discuss the nature of the Afghan insurgency. The discussion featured Marvin Weinbaum, professor emeritus of political science at the University of Illinois at Urbana-Champaign, and RFE/RL Afghanistan analyst Amin Tarzi.
LISTEN
Listen to the entire briefing (about 83 minutes):
Real Audio
Windows Media
ARCHIVE
RFE/RL's
coverage of Afghanistan
.
SUBSCRIBE
For weekly news and analysis on Afghanistan by e-mail,
subscribe to "RFE/RL Afghanistan Report."