The pro-government press-uz.info website says the appeals chamber of the Tashkent City Court upheld a July 26 ruling that requires Winrock International to end its operations in Uzbekistan.
Uzbek authorities accuse the group of publishing a booklet titled "Islam And Women" that they say misquotes the Koran. They also accuse the group of shooting video footage that "distorts conditions for Uzbek women."
Winrock International's website describes itself on its website as "a nonprofit organization that works with people in the United States and around the world to increase economic opportunity, sustain natural resources, and protect the environment."
It lists its areas of focus as agriculture and rural development, education and empowerment, and democracy and governance, among other things.
Uzbek courts have ordered the closure of several Western nongovernmental organizations in recent months -- accusing them of violating national laws.
Military Bases In Central Asia
Military Bases In Central Asia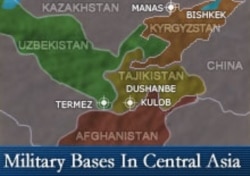 Click on the map for an enlarged image.

PROJECTING POWER: Since the collapse of the Soviet Union and the onset of the war on terror, Central Asia has played an important role in military-security issues. At times, Russia and the West have clashed over questions related to military deployments. RFE/RL has provided extensive coverage of this increasingly important geopolitical matter.
RELATED ARTICLES
U.S. Official Discusses Policy In Central Asia
Kazakhstan Looks To Build On Alliance With Putin
The Geopolitical Game In Central Asia
Dushanbe Conference Focuses On Regional Security
Russia And U.S. Often At Odds In Central Asia
China-Russia Bloc Challenges U.S. In Region


THE COMPLETE STORY: Click on the icon to view a dedicated webpage bringing together all of RFE/RL's coverage of Kazakhstan, Kyrgyzstan, Tajikistan, Turkmenistan, and Uzbekistan.