Four Russian Climbers In Pakistan Presumed Dead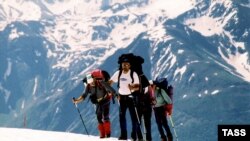 Mountaineers on Mount Elbrus, Russia's and Europe's highest peak (ITAR-TASS) August 18, 2006 -- Four Russian mountain climbers are feared dead after being hit by an avalanche on the world's second-highest mountain, K2.
The group's tour operator, Adventure Tours Pakistan, says rescue workers have called off their search and rescue operation.
They say there is "no hope" for the Russians, who have been missing since the avalanche on August 13. An administrator in the nearby Pakistani town of Skardu says finding the climbers alive is "out of the question."
(AFP)



UPDATED CONSTANTLY: Visit RFE/RL's Russian-language website, featuring news, analysis, features, streaming audio, and more, in Russian, from RFE/RL's Russian Service.
ARCHIVE
RFE/RL's English-language
coverage of Russia
.