State-run television ran a video showing 10 missiles being launched from mobile launching pads.
Officials said the missiles were successfully tested in the Kashan Desert, about 250 kilometers southeast of the capital, Tehran.
They said the new surface-to-surface Iranian-made Saeqeh (Lightning) missile has a range of between 80 and 250 kilometers and can evade radar systems.
On August 19, Iran announced large-scale military exercises aimed at introducing the country's new defensive doctrine. Ataollah Salehi, the commander of Iran's regular armed forces, said the country should be ready for possible attacks.
"The strengths that you see in the war games are the powers we have obtained from our experience [in fighting] our enemies' ominous objectives," Salehi said. "We have designed plans that will definitely surprise our enemies."
State-run television reported that the exercises -- called Zolfaghar's Strike in reference to a sword that belonged to Imam Ali, a revered figure in Shi'ite Islam -- would occur in 14 of the country's 30 provinces and could last as long as five weeks.
The first stage of the maneuvers began with air strikes in the southeastern province of Sistan va Baluchistan.
Military Plane Crashes
State-run television also reported that a military training plane crashed in northeast Tehran today.
The broadcast said the plane was making an emergency landing on a highway when one of its wings hit a water tank and it burst into flames.
Officials said the only person in the plane, the pilot, survived. They say the plane was not taking part in the military maneuvers.
Iran's military held war games in the Persian Gulf in April, during which they tested new missiles, torpedoes, and other equipment.
What Would Sanctions Mean?
What Would Sanctions Mean?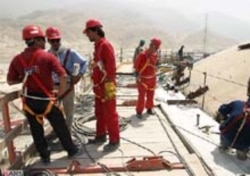 Economic sanctions could further undermine Iran's already shaky economy (Fars)


MOVING TOWARD SANCTIONS: If the United Nations Security Council imposes sanctions on Iran, domestic support for Iranian President Mahmud Ahmadinejad will wane, according to ALEX VATANKA, Eurasia editor for Jane's Information Group.
Vatanka told a February 24 RFE/RL briefing that "economic sanctions will hurt the average Iranian" and, consequently, many "will blame the ruling clerics" for making life difficult and "impairing the country's long term development."
Vatanka said sanctions would be a serious challenge to the Iranian government. If harsh economic sanctions were imposed, Iran's poorest population will be hurt the hardest -- and might react "as they did in the 1970s and protest in the streets." Sanctions on travel, Vatanka said, would hurt a many Iranians because "Iran is a nation of small traders" who depend on the ability to travel to earn an income. According to Vatanka, unemployment in Iran is estimated at 30 percent, "so small trading is essential to survival." Although current U.S. sanctions "haven't worked," he said, "Iranians fear an oil embargo." He stressed that "oil revenues are a major part of the economy, so it is critical to look at this sector."
Should negotiations with the European Union and the UN fail, Vatanka believes that Iran would follow a "North Korea model," since Ahmadinejad's base of support among the "Islamist militias" has been "urging withdrawal from the NPT [Nuclear Non-Proliferation Treaty]." The Iranian government's "tactic" so far, Vatanka said, is governed by the belief that "by shouting the loudest, you'll get concessions [from the West]."
LISTEN
Listen to the complete panel discussion (about 60 minutes):

Real Audio
Windows Media

THE COMPLETE STORY: RFE/RL's coverage of the controversy surrounding Iran's nuclear program.
CHRONOLOGY
An annotated timeline of Iran's nuclear program.