State-run television reported that air, naval, and land exercises would occur in 14 of the country's 30 provinces and could last as long as five weeks.
The first stage of the maneuvers began with simulated air strikes in the southeastern province of Sistan va Baluchistan.
The exercise involves 12 infantry regiments and is called Zolfaghar's Strike.
(AP)
What The Street Thinks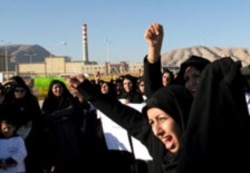 A demonstration in support of Iran's nuclear program outside the Isfahan uranium-conversion facility in Isfahan in January (epa)

IRANIANS SPEAK OUT ON THE DISPUTE: To find out more about what Iranians think about the international controversy over their country's nuclear program, RADIO FARDA asked listeners to express their views....(more)
See also:
Iran: Public Has Mixed Feelings On Nuclear Issue

THE COMPLETE PICTURE: RFE/RL's complete coverage of controversy surrounding Iran's nuclear program.
CHRONOLOGY
An annotated timeline of Iran's nuclear program.