The news website press-uz.info says the court ordered Crosslink Development International to close its offices after finding the group guilty of failing to provide accurate information about its activities and of other charges
Crosslink Development International is a relief agency based in the U.S. state of Minnesota, and has been working in Central Asia since 1992.
In Uzbekistan, it has been granting small start-up loans to poor rural families who want to set up businesses.
The Uzbek Justice Ministry earlier this month accused the group of granting those loans in cash, which it says contravenes the country's laws.
Uzbek authorities have in recent months closed down a string of U.S. and other western NGOs on various charges.
(press-uz.info)

Uzbekistan, Russia, And The West
Uzbekistan, Russia, And The West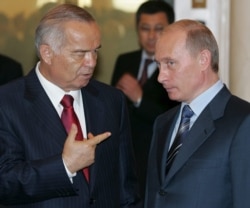 President Karimov (left) with Russian President Putin in July 2005 (epa)


BETWEEN EAST AND WEST: One of the ramifications of the May 2005 bloodshed in Andijon has been a souring of relations between Tashkent and the West, accompanied by a raproachment between Uzbekistan and Russia. Following sharp U.S. and European criticism of the Andijon crackdown, Uzbekistan kicked the United States out of the Karshi-Khanabad air base and began actively courting Moscow.
"Today, we are reaching an unprecedented level in our relationship," Uzbek President Islam Karimov said during a November 2005 summit with Russian President Vladimir Putin, at which the leaders signed a strategic-partnership agreement. "I understand and we all understand in Uzbekistan that it is unprecedented that Russia signs such a partnership agreement with Uzbekistan."
RELATED ARTICLES
Germany Likely To Leave Uzbek Base
The Geopolitical Game In Central Asia
Uzbekistan: Between East And West
Central Asia: Russia And U.S. Often At Odds In Region
Russian, U.S. Military Bases On Opposite Tracks
Swiss Spokeswoman Explains Arms Ban On Uzbekistan
Putin Defends Ties With Uzbekistan, Belarus, Iran
Uzbekistan: Playing Russia Against The West
Factbox Of Uzbek-Russian Relations


THE COMPLETE STORY: A dedicated webpage bringing together all of RFE/RL's coverage of the events in Andijon, Uzbekistan, in May 2005 and their continuing repercussions.
CHRONOLOGY
For an annotated timeline of the Andijon events and their repercussions, click here.