The court ruled the Urban Institute was engaging in activities outside its stated purpose.
As one example of violations, the Justice Ministry said during a training session for a homeowner society, representatives of the Urban Institute initiated a discussion about the socioeconomic and sociopolitical situation in Uzbekistan.
The office of the international organization Human Rights Watch is also facing legal problems. Uzbek authorities say the group cannot provide evidence to support public claims it has made about rights violations in Uzbekistan.
The Hungarian NGO Ecumenical Charity Service also faces closure. Uzbekistan's Justice Ministry charges the charity failed to open a bank account, covered all local expenses with cash and evaded taxes.
(press-uz.info, Interfax)
Andijon Refugees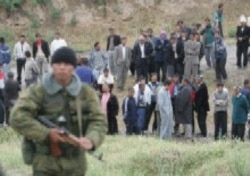 Uzbek refugees in Kyrgyzstan on May 19, 2005 (epa)


NO PLACE TO GO: More than 400 Uzbeks who fled in panic in the hours and days after troops opened fire on demonstrators in Andijon one year ago have been granted political asylum outside Central Asia. In limbo for weeks in Kyrgyzstan as they and the world tried to come to grips with the bloody events of May 12 and 13, they feared for their lives and the lives of family members as the official crackdown continued.... (more)
RELATED ARTICLES
Andijon Refugees In Romania Have Escaped Violence, But Not Heartache
Refugees In Romania Await Decision On Destination
Refugees Want To Return Only If Regime Changes


THE COMPLETE STORY: A dedicated webpage bringing together all of RFE/RL's coverage of the events in Andijon, Uzbekistan, in May 2005 and their continuing repercussions.
CHRONOLOGY
For an annotated timeline of the Andijon events and their repercussions, click here.