Uzbek Court Upholds Closure Of U.S. NGO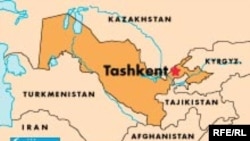 (RFE/RL) May 23, 2006 -- A pro-government website in Uzbekistan, press-uz.info, reports that a Tashkent court today overturned an appeal filed by the American Bar Association (ABA) against the closure of a public-service project in the country.
The Uzbek Justice Ministry on April 27 ordered ABA to end its Central European and Eurasian Law Initiative on the grounds that the U.S. nongovernmental organization was providing legal aid to unregistered organizations in the country and supporting local NGOs.
Uzbek authorities have in recent months closed the operations of a number of U.S.-funded groups or charities, arguing that they are violating the country's laws.
Relations between Uzbekistan and the United States have soured since Washington lent its voice to international demands for an independent probe into a bloody military crackdown in the eastern city of Andijon in May 2005.



A dedicated webpage bringing together all of RFE/RL's coverage of the events in Andijon, Uzbekistan, in May 2005 and their continuing repercussions.
CHRONOLOGY
An
annotated timeline
of the Andijon events and their repercussions.