That might suggest there is little middle ground for Iran, on one side, and the five permanent Security Council members plus Germany (P-5 plus 1), on the other.
Yet analysts say that -- as with so much in the now years-long Iranian nuclear crisis – one should not rush to conclusions.
Devil In The Details
Much will depend on the precise nuances of language Iran has used in defining its response to UN demands that it suspend uranium-enrichment activities.
Most important could be whether Tehran has, in fact, left open a window for a temporary suspension whose conditions could become a basis for talks.
Shannon Kile, a nuclear expert at the Swedish-based Stockholm International Peace Research Institute (SIPRI), says he -- like other researchers -- has yet to see the response letter. But he notes that in recent weeks, Tehran has signaled it would give a "conditional yes" to the UN powers' offer.
Kile says that could mean "no" to an immediate or permanent suspension of enrichment but "yes" to a temporary one.
"The signals that have been coming from Tehran are that Iran was never going to accept an immediate suspension of its uranium enrichment program," Kile says. "And the feeling in Tehran was that the conditions that the P-5-plus-1 proposal set out were so vague that they were tantamount to a permanent cessation, which Iran has ruled out from the very beginning. What is interesting, though, is that the Iranian leadership has indicated that it is not unwilling to consider a [temporary] suspension of its enrichment program [and], however this is going to be negotiated, it is going to have to be time-bound and limited to the duration of negotiations on a longer-term agreement with the P-5 plus 1."
Further Review
The recipients of Iran's response have yet to give any hint as to the precise wording in the document, which runs 23 pages in Persian.
But White House deputy press spokeswoman Dana Perino said on August 23 that the response would be studied carefully.
"We acknowledge that Iran considers its response as a serious offer and we will review it," Perino said. "The response, however, falls short of the conditions set by the Security Council, which require the full and verifiable suspension of all enrichment-related and reprocessing activities. We are closely consulting with the other members of the Security Council on the next steps."
Iran's response comes after the UN passed a resolution in late July giving Iran until August 31 to suspend its uranium-enrichment program in line with earlier nonbinding calls by the UN to do so.
The July resolution also opened the way to future resolutions that could impose sanctions on Iran but not invoke military action.
Crucial Juncture
The question now is whether -- depending on the wording of Iran's response -- Washington will press for sanctions or accept any window Iran has left open for talks instead.
Washington's chief diplomat in the Iran nuclear crisis, Nicholas Burns, said prior to Iran's response that the United States would press quickly for sanctions if Tehran did not agree to the world powers' offer.
However, to press successfully for sanctions, Washington and its European allies must overcome resistance from Russia and China. Both want only a negotiated solution to the crisis based on the latest international offer.
The P-5-plus-1 offer extends earlier European efforts to negotiate with Iran to suspend enrichment in exchange for trade and peaceful nuclear-technology incentives.
It also adds a first-time promise by the United States to join the negotiations if Iran suspends uranium enrichment beforehand.
Iran previously suspended uranium enrichment while taking part in talks with Britain, France, and Germany -- the EU-3. But those talks in 2005 broke down and Tehran resumed enrichment activities it continues today.
No 'Red Line'?
As the six world powers now weigh their next move, it remains unclear how much pressure any threat of sanctions would actually exert upon Iran.
Kile says that the administration of Iranian President Mahmud Ahmadinejad seems less concerned with the UN Security Council than that of his predecessor, former President Mohammad Khatami.
Kile says that change of mood is reflected in Iran's nuclear negotiating team.
"The team that's responsible for handling the nuclear file has a different background than the previous team. Many fewer are professional diplomats, more people are coming with backgrounds in the Revolutionary Guards and the security services, and my sense is that the new team that is in charge of the nuclear file is less concerned about going to the Security Council. That used to be a red line for Iran's diplomacy, but that seems to be largely erased now."
Kile says Tehran believes it can combat any new pressure from the Security Council by turning for support to other Muslim and nonaligned states that may also want one day to pursue nuclear programs that include uranium enrichment.
Uranium enrichment is a dual-use activity that can produce fuel for nuclear energy reactors or, at high levels of enrichment, material for nuclear weapons.
Talking Technical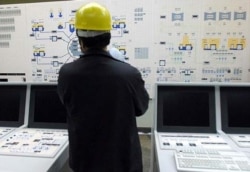 A control panel at the Bushehr nuclear power plant (Fars)

CASCADES AND CENTRIFUGES: Experts and pundits alike continue to debate the goals and status of Iran's nuclear program. It remains unclear whether the program is, as Tehran insists, a purely peaceful enegy project or, as the United States claims, part of an effort to acquire nuclear weapons.
On June 7, 2006, RFE/RL correspondent Charles Recknagel spoke with nuclear expert Shannon Kile of the Stockholm International Peace Research Institute in Sweden to help sort through some of the technical issues involved. "[Natanz] will be quite a large plant," Kile said. "There will be about 50,000 centrifuges and how much enriched uranium that can produce [is] hard to say because the efficiency of the centrifuges is not really known yet. But it would clearly be enough to be able to produce enough [highly-enriched uranium] for a nuclear weapon in fairly short order, if that's the route that they chose to go...." (more)
RELATED ARTICLES
Tehran Says It Is Working On Advanced Nuclear Fusion
Would Light-Water Reactor Suit Tehran's Needs?
Satellite Images Raise Questions About Iran's Nuclear Program
Centrifuges And Political Spin?
How Close Is Iran To Getting Nuclear Bomb?
Iran: The Worst-Case Scenarios

THE COMPLETE STORY: RFE/RL's complete coverage of controversy surrounding Iran's nuclear program.