Andrei Dumenkov is the second Russian this month to be handed a heavy prison term on spying charges.
According to Russia's Federal Security Service (FSB), Dumenkov's activities began raising suspicions as early as 2004.
"The idea behind the politics of the whole of Putin's rule is to restore Russia's grandeur to the superpower level of the Soviet Union."
In August 2005, Dumenkov was reportedly arrested in a Moscow train station as he attempted to leave the country. Reports say he had just obtained a residency permit for Germany at the time of his arrest.
What Dumenkov's occupation is, or how he had access to military secrets, remains unclear.
On August 23, he was sentenced to 12 years in prison after admitting he had tried to sell Germany missile-technology secrets and information on Russia's intelligence activities abroad.
If the story sounds oddly familiar, that's because another Russian was sentenced to 13 years in prison on August 9 for handing classified information to Britain's foreign intelligence service, MI6.
Russian investigators said Sergei Skripal, a retired Russian colonel, had received some $100,000 from MI6 in exchange for revealing the identity of dozens of Russian intelligence agents working in Europe.
Nothing Like A Spy Scandal
The convictions themselves are hardly surprising, according to Yevgeny Volk, the director of the Heritage Foundation in Moscow. "This reflects [President Vladimir] Putin's ideology. He himself used to be in the special services, and of course he likes it when spies are caught and when scandals allow him to put pressure on his [foreign] partners," he says.
"The idea behind the politics of the whole of Putin's rule is to restore Russia's grandeur to the superpower level of the Soviet Union. The Soviet Union loved scandals involving large-scale expulsion of spies," Volk adds.
The timing of these two sentences, however, may not be accidental.
Volk says Russia is likely to have put spying scandals on hold until the end of the closely watched Group of Eight (G8) summit in July, during which Putin received Western leaders in his home city of St. Petersburg.
Vladimir Pribylovsky, who heads Moscow's Panorama think tank, agrees. "It is no coincidence that this was done after, and not before, the summit in St. Petersburg," he says. "I think they could have done it before, but they didn't want to irritate Western leaders."
Not Quite Like Old Times
The sentencing of Skripal and Dumenkov follows the "spy rock" scandal that made headlines in January. Russia's secret services in that incident accused four British diplomats of spying in Moscow.
They claimed the spies communicated with their informers through an artificial rock containing espionage equipment and planted in a Moscow park. Britain vehemently denied the accusations.
Despite the Cold War character of that scandal, things have nonetheless changed since Soviet times.
If, like Volk suggests, Russia still enjoys publicly exposing alleged spy rings, it seems to have reviewed the wisdom of expelling uncovered spies.
Commenting on the "spy rock" incident, Putin spoke against expelling the four British diplomats -- their replacements, he quipped, might be smarter and harder to catch.
Russia's Democratic Development
Russia's Democratic Development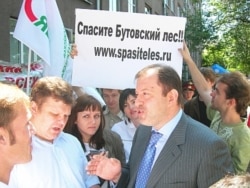 Demonstrators speak with local politicians in Butovo about the destruction of a local forest in July 2006 (RFE/RL)

IS RUSSIAN DEMOCRACY MANAGING? Russian President Vladimir Putin has said Western powers seek to pressure Russia under the pretext of concern over its democratic development. He has said Russia is ready to listen to "well-intentioned criticism," but will not allow anyone to interfere in its internal affairs. The Kremlin has been criticized for stifling political oppostion, increasing central control over the media, and cracking down on the work on nongovernmental organizations.
RELATED ARTICLES
Concerns Raised About Moscow Chairing Rights Committee
Using Racism Is A Time-Honored Kremlin Tool
Putin Comes Under Fire At Global Media Congress
Oligarch's Case A Sign Of The Times
'Letter Of 100' Warns That Putin Is Suppressing Democracy
A Hard-Line Agenda For Putin's Second Term
Book Says Putin's Russia Falls 'Between Democracy and Dictatorship'
NGOs Denounce Status Changes As Move To Curb Activities
Scrutiny Of Foreign Funds Hurts Democracy Programs
U.S. Official Says Russian NGO Law Part Of Antidemocratic Trend

SUBSCRIBE
For news and analysis on Russia by e-mail,
subscribe to "RFE/RL Russia Report."