Speaking to RFE/RL's Uzbek Service from Geneva, UNHCR spokeswoman Helene Caux said the organization is considering the move following the disappearance of four Uzbek asylum seekers and one exiled opposition activist in Osh.
"We are not able to provide complete protection to these people, so we're trying to get them out of Osh because five people have already disappeared in less than two months. It cannot continue like this," Caux said.
On August 23, asylum seekers Bakhtiyor Ahmedov and Ilhom Abdunabiev disappeared shortly after visiting the Osh offices of the Kyrgyz State Committee on Migration and Employment.
Another two asylum seekers, Valijon Bobojonov and Saidullo Shokirov, disappeared last week. Rights activists believe they were secretly taken to neighboring Uzbekistan.
Last month, an activist for an opposition party, Isroil Holdorov, also mysteriously disappeared.
Uzbek authorities deny any involvement in the disappearances. The Kyrgyz government has not commented.
An estimated 500 Uzbeks who fled a government crackdown in Andijon in May 2005 are believed to be living among the predominantly ethnic Uzbek population in southern Kyrgyzstan.
Andijon Anniversary Conference
Andijon Anniversary Conference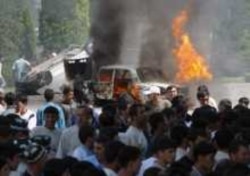 Violence in Andijon, Uzbekistan, on May 14, 2005 (epa)


TALKING ABOUT ANDIJON:
On May 9, 2006, RFE/RL, the National Endowment for Democracy, and U.S.-based human rights organizations cohosted a conference on the May 2005 events in Andijon and their aftermath in Uzbekistan and throughout the region. The first panel featured Andijon eyewitness
GALIMA BUKHARBAEVA
, National Endowment for Democracy Fellow
NOZIMA KAMALOVA
, RFE/RL Central Asia analyst
DANIEL KIMMAGE
, and others. The second panel featured presentations by U.S. Senator
JOHN MCCAIN
and U.S. Congressman
CHRISTOPHER SMITH
, who used the forum to announce they had introduced legislation calling for sanctions and other measures against the government of President Islam Karimov.
LISTEN
Listen to the Andijon conference. Part One (70 minutes):
Real Audio
Windows Media
Part Two (60 minutes):
Real Audio
Windows Media
The Uzbek government's response:
Real Audio
Windows Media


THE COMPLETE STORY: A dedicated webpage bringing together all of RFE/RL's coverage of the events in Andijon, Uzbekistan, in May 2005 and their continuing repercussions.
CHRONOLOGY
For an annotated timeline of the Andijon events and their repercussions, click here.