PRAGUE, August 28, 2006 (RFE/RL) -- This campaign is just the latest move by women's rights activists who argue that Iran can be Islamic and nondiscriminatory at the same time.

Police violently dispersed a public protest two months ago aimed at raising awareness of gender discrimination. One of the demonstrators involved in that event -- former reformist lawmaker and student rights activist, Ali-Akbar Moussavi Khoeni -- remains in custody.

This new initiative is aimed at pressuring lawmakers. Organizers want to demonstrate that many Iranian citizens -- women and men –- are unhappy with laws that treat women as second-class citizens.

Islamic laws as applied in Iran deny women equal rights in divorce, child custody, inheritance, and other areas.

A woman's testimony in court is worth half that of a man, and a woman needs the permission of her father or husband to travel.

Testing Public Support

Activist Golnaz Maleki told Radio Farda that the demand that discriminatory laws be amended has broader support than just women's rights defenders.

"One million signatures can at least demonstrate that our demands are not only the demands of 4,000 or 5,000 people who go to various gatherings, are beaten up, and then go home," Maleki said. "There is wide support for these demands."

Campaigners also argue that Iranian legislation lags behind cultural norms and women's status in society. In Iran, more than 60 percent of university entrants are women. Iranian women actively participate in many spheres, including in the education and NGO sectors.


Activists believe the legal discrimination against women negatively affects the lives of men. They say it has led to what they describe as an unbalanced and unhealthy relationship between men and women.
Maleki said she and other organizers hope to raise public awareness about women's rights and create dialogue and cooperation among different groups.
"Our main goal is to create a dialogue among citizens and educate them about their rights," Maleki said. "And we also want women to become sensitive to their status under the law and in society. We also want to create a collective morale among women and encourage collaboration."
Multi-Pronged Effort
Another campaign member, Farnaz Seyfi, told Radio Farda that the campaign will employ a number of methods to achieve its goals.
"The main method is based on the face-to-face method -- signatures will be gathered through door-to-door contact and conversations with women," Seyfi said. "Another method is identifying places where women gather -- for example, in hair salons, sport clubs, parks, on public transportation. Campaign members will go to these places and talk to women. Another method is organizing seminars and meetings that promote dialogue; in these places, signatures will be collected from participants."
Activists insist that collecting signatures against discriminatory laws is only "the first phase" of the campaign. They say the next phase includes proposing new laws.
Maleki said the current campaign ismodeled on a similar effort that was launched in Morocco in 1992 and led to changes in the law.
But she said she suspects that campaigners in Iran have a more difficult task ahead of them than their colleagues in Morocco.
"[Collecting] 1 million signatures is in fact one of the goals -- we've set June 19, 2007, as the deadline," Maleki said. "But I'm personally not very hopeful that, by that day, 1 million signatures will have been collected. From what I know from Morocco, [Moroccan activists] collected 1 million signatures in three years. [But] they had different conditions -- their king [supported them], and they had a volunteer force of 9,000."
Authorities prevented the event on August 27 at which the campaign was supposed to kick off -- a seminar on "the Impact of laws on women's rights." But organizers began collecting signatures from those who turned up nevertheless.
They also distributed pamphlets on laws that activists claim deny women basic rights.

Campaigners have also launched a website to further their cause, called we-change.org.

Several prominent intellectuals, lawyers, and literary figures have publicly backed the compaign, including Nobel Peace Prize laureate Shirin Ebadi, poet Simin Behbahani, and film director Jafar Panahi.

(Radio Farda broadcaster Parnaz Azima contributed to this report.)
Women In Iran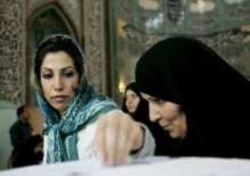 Women in Tehran (epa file photo)

CALLING FOR MORE RIGHTS: Although women played key roles in Iran's 1979 Islamic Revolution, the place of women in post-revolutionary society has been a vexing question. Iranian women have struggled to bring attention to their calls for greater rights in their country's rigid theocratic system, calls that have often clashed with the values proclaimed by conservatives in society. (more)
RELATED ARTICLES
Tehran Police Renew Campaign To Combat 'Un-Islamic' Dress
Iranian Peace Prize Laureate Shirin Ebadi On Women's Rights
Activists Concerned About Self-Immolation Of Iranian-Kurdish Women
The Younger Generation's 'Tehran Blues'
ARCHIVE
RFE/RL's coverage of Iran. RFE/RL's coverage of issues concerning women throughout our broadcast area.

SUBSCRIBE
For a regular review of civil-society developments throughout RFE/RL's broadcast region, subscribe to "RFE/RL (Un)Civil Societies."