Addressing a news briefing in Dushanbe on August 28, Shoqasim Shoislamov also said Uzbekistan's admission in January into the Eurasian Economic Community (Eurasec) makes it possible to review the visa regime that exists between the two countries.
Uzbekistan and Kyrgyzstan on August 24 drafted a 60-day, visa-free-travel agreement that should be finalized when President Kurmanbek Bakiev visits Tashkent next month.
Shoislamov said that, now that Uzbekistan has been integrated into Eurasec, it can negotiate a similar agreement with Tajikistan.
Although Uzbekistan and Tajikistan belong to a number of regional groupings, relations between the two remain tense, mostly due to security and environmental disputes.
(Asia Plus, Avesta)
Shanghai Cooperation Organization
Shanghai Cooperation Organization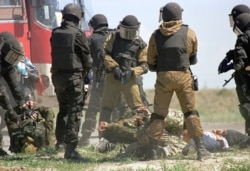 Soldiers conducting the first-ever SCO joint antiterrorism exercises, held in Kazakhstan in August 2003 (TASS)

NATO'S EVIL TWIN? At an August 3 briefing at RFE/RL's Washington,D.C., office, Central Asia experts Richard Weitz and Daniel Kimmage discussed the emergence of the Shanghai Cooperation Organization (SCO), a multilateral body that comprises Russia, China, Kazakhstan, Kyrgyzstan, Tajikistan, and Uzbekistan. In addition, Iran, Pakistan, Mongolia, and Afghanistan have observer status in the organization.
LISTEN
Listen to the entire briefing (about 75 minutes):

Real Audio
Windows Media
RELATED ARTICLES
U.S. Wary Of Shanghai Grouping
Unified Message Emerges From Shanghai Summit
Shanghai Cooperation Organization Mulls Expansion
China-Russia Bloc Challenges U.S. In Region


THE COMPLETE STORY: Click on the icon to view a dedicated webpage bringing together all of RFE/RL's coverage of Kazakhstan, Kyrgyzstan, Tajikistan, Turkmenistan, and Uzbekistan.