Prosecutor-General Kambaraly Kongantiev said they are all guilty of taking part in last year's Andijon unrest, which Uzbekistan says led to the deaths of 187 people.
Addressing a news briefing in Bishkek, Kongantiev described Zhahongir Maqsudov, Yaqub Toshboev, Odilzhon Rahimov, Rasulzhon Pirmatov, and Fayoz Tojihalilov as "criminals and killers."
The five were sent back to Uzbekistan on August 9 amid widespread international criticism.
Since then, another four Uzbek asylum seekers -- Valijon Bobojonov, Saidullo Shokirov, Bakhtiyor Ahmedov, and Ilhom Abdunabiev -- have gone missing in the southern Kyrgyz city of Osh.
Kongantiev says he has ordered his office to investigate those disappearances.
"This issue has been discussed at length in media outlets. I also discussed it with U.S. Ambassador Marie Yovanovitch three days ago," Kongantiev said. "I told her no one had come to me to file an official complaint [about those disappearances]. I've ordered the prosecutors of Osh region and Osh City to check those reports and see whether there is anything there."
Kyrgyz and international rights groups -- including the International Helsinki Federation of Human Rights and Human Rights Watch -- fear at least two of the four missing Uzbeks were forcibly returned to their home country.
The United States has called on the Kyrgyz government to investigate the disappearances.
(with material from 24.kg)
Andijon Refugees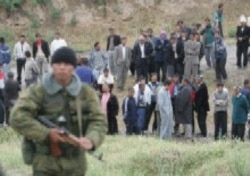 Uzbek refugees in Kyrgyzstan on May 19, 2005 (epa)


NO PLACE TO GO: More than 400 Uzbeks who fled in panic in the hours and days after troops opened fire on demonstrators in Andijon one year ago have been granted political asylum outside Central Asia. In limbo for weeks in Kyrgyzstan as they and the world tried to come to grips with the bloody events of May 12 and 13, they feared for their lives and the lives of family members as the official crackdown continued.... (more)
RELATED ARTICLES
Andijon Refugees In Romania Have Escaped Violence, But Not Heartache
Refugees In Romania Await Decision On Destination
Refugees Want To Return Only If Regime Changes


THE COMPLETE STORY: A dedicated webpage bringing together all of RFE/RL's coverage of the events in Andijon, Uzbekistan, in May 2005 and their continuing repercussions.
CHRONOLOGY
For an annotated timeline of the Andijon events and their repercussions, click here.