RFE/RL's Kyrgyz Service reported that the hearings adjourned after a while because lawyers for two of the defendants and some witnesses failed to appear in court.
The trial is due to resume on August 30.
One of the defendants is a woman. Another one is reportedly a Tajik citizen. All six are suspected of belonging to the banned Hizb ut-Tahrir and Islamic Movement of Uzbekistan radical religious groupings.
The May 12 attack, which took place in Kyrgyzstan's Batken region, claimed the lives of several Kyrgyz and Tajik border guards.
(with 24.kg and AKIpress)
Hizb Ut-Tahrir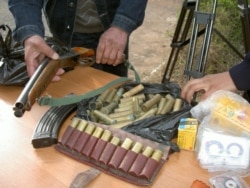 Arms and leaflets allegedly confiscated from Hizb ut-Tahrir members in Kyrgyzstan in May (RFE/RL)

ATTRACTIVE TO THE YOUNG: It is virtually impossible to estimate the size or composition of Hizb ut-Tahrir's membership in Central Asia, because the controversial movement is banned in most places. But some observers say anecdotal evidence suggests the group's core of younger members is growing....(more)
RELATED ARTICLES
Russia Approves List Of 17 'Terrorist' Groups
Extremist Threats, And Doubts, In Kyrgyzstan, Tajikistan
Hizb Ut-Tahrir's Calls For Islamic State Find Support
Hizb Ut-Tahrir Challenges Britian's Proposed Ban
Lone Islamic Party Pursues Dual Path In Tajikistan

A thematic webpage devoted to issues of religious tolerance in RFE/RL's broadcast region and around the globe.