UN Secretary-General Kofi Annan is visiting Damascus today on the latest stop of his whirlwind Middle East tour, while international donors meeting in Stockholm on August 31 raised almost $1 billion in pledges for Lebanon's recovery.
Following stops in Beirut, Israel, and Jordan, Annan says he won an important pledge from Syria today after talks with President Bashar al-Assad in Damascus. Annan told reporters that in their talks, al-Assad vowed to help the UN implement its cease-fire resolution on Lebanon.
Syrian Cooperation
Specifically, the UN chief said Damascus will increase patrols on the Lebanon-Syria border and establish joint patrols with the Lebanese Army "when possible" to stop the flow of arms to Hizballah, Syria's ally.
Damascus will increase patrols on its Lebanese border and
establish joint patrols with the Lebanese Army "when possible" to stop
the flow of arms to Hizballah.
"The [Syrian] president informed me that Syria would undertake, as soon as possible, the following measures: increasing border-guard numbers and capability through the provision of additional training and supply of equipment; establishing liaison mechanisms with the Lebanese armed forces, Lebanese border police, and international personnel; [and] providing technical assistance to the Lebanese in order to set up an effective interdiction regime," Annan said.
Annan was speaking to reporters at Damascus airport before departing for Qatar. He is due to visit Tehran on September 2.
Israel has accused Syria of supplying Hizballah fighters with weapons across the border. Syria has denied the charges and has balked at Israeli demands that UN troops be deployed along the Lebanon-Syria border.
Al-Assad's pledge, if followed through on, would be a significant step toward implementing UN Security Council Resolution 1701, which halted fighting between Israel and Hizballah.
The resolution calls for an arms embargo on the Shi'ite militant group and for Lebanon to "secure its borders and other entry points."
International Assistance
Annan's talks in Syria come a day after donor nations meeting in Stockholm raised almost $1 billion in pledges to help Lebanon's reconstruction. The donor nations are again meeting today to also raise funds to aid the Palestinian territories.
In nearby Finland, EU foreign ministers today are opening two days of talks. They are expected to discuss how to reduce tensions in the Middle East.
In Lebanon, five Italian naval vessels carrying nearly 2,500 troops have reached the Lebanese coast and will dock at the port of Tyre on September 2. Some 1,000 soldiers will deploy in Lebanon, where they are due to back up UN forces, while the remaining 1,500 sailors and military personnel will remain on board the ships, off the Lebanese coast.
Their arrival, coupled with fresh forces from France, will bring the total number of UN troops in south Lebanon to nearly 5,000.
Israel has suggested that it will begin pulling out its remaining forces from south Lebanon as soon as the UN has at least 5,000 soldiers in place.
Finally, Indonesia says it is preparing to send 1,000 troops to Lebanon as part of the UN force, which is set to expand to some 15,000 troops. Defense Minister Juwono Sudarsono said today that the decision comes after Israel dropped its objections to Indonesian participation.
Israel, which offered no immediate comment on the report, had previously said it opposed peacekeepers from countries that do not recognize the Jewish state.
Iran, Syria, And Hizballah
Iran, Syria, And Hizballah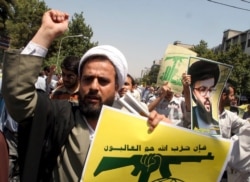 Iranians demonstrating in support of Hizballah in Tehran on July 17 (epa)

'FOR THE SAKE OF LEBANON': The Islamic Republic of Iran has served as an ideological inspiration for Hizballah since the Lebanese militant group's creation in 1982, and Tehran acknowledges that it supports the organization morally and politically. "Yes, we are friends of Syria and Iran" Hizballah leader Hassan Nasrallah has said. "For 24 years we benefited from our friendship with Syria and Iran for the sake of Lebanon...." (more)
RELATED ARTICLES
Tehran Playing Key Role In Israel-Lebanon Crisis
Iran, Hizballah Brush Off U.S. Terrorism Label
Intifada Conference In Tehran Has Multiple Objectives
UN Resolution Rankles Syria, Hizballah, Iran
ARCHIVE
RFE/RL
coverage of Iran
. RFE/RL web special on
Iran's nuclear program
.
SUBSCRIBE
For weekly news and analysis on Iran by e-mail,
subscribe to "RFE/RL Iran Report."