Tatar-Language TV Broadcasts Begin In Crimea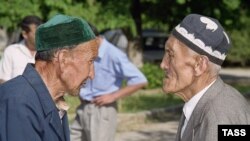 Crimean Tatars in Simferopol (ITAR-TASS) PRAGUE, September 4, 2006 (RFE/RL) -- The first Tatar-language television station "Atlant" today started broadcasting in the Crimea in Ukraine.
The station is based in the Crimean town of Simferopol and in the future is expected to cover the whole territory of Crimea. The station will be on air seven hours a day.
Representatives of Crimean Tatar organizations say the channel will help to promote Tatar culture and language.