Kyrgyzstan Confirms Opposition Leader Arrested In Poland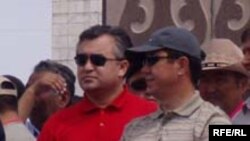 Omurbek Tekebaev (in red shirt; file photo) (RFE/RL) September 7, 2006 (RFE/RL) -- Kyrgyzstan's Foreign Ministry has confirmed that opposition leader and former parliamentary speaker Omurbek Tekebaev has been detained in Poland and charged with attempting to smuggle drugs into the country, RFE/RL's Kyrgyz Service reports.
A ministry statement says Polish border guards at Warsaw airport arrested Tekebaev today with heroin in his possession.

The ministry says Tekebaev is currently at a pretrial detention center in the Polish capital.

Tekebaev was traveling on a diplomatic passport and was due to attend a world economic forum in the Polish town of Krynica.

In the Kyrgyz capital, Bishkek, opposition lawmaker Temir Saraev said he had spoken with Tekebaev after his arrest. He said Tekebaev denies the charges.