U.S. Official Says Afghanistan Great Success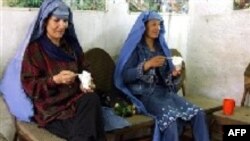 Graffy praised Afghanistan's steps toward democracy, including its September 2005 parliamentary elections (file photo) (AFP) PRAGUE, September 8, 2006 (RFE/RL) -- A top U.S. diplomat says one of the main achievements of the war on terrorism has been to turn Afghanistan from a failed state into a country on the path toward democracy.
Deputy U.S. Assistant Secretary of State Colleen Graffy spoke to RFE/RL today in Prague, shortly before the fifth anniversary of the September 11, 2001, attacks.
"One of our first successes was in transforming Afghanistan from a failed state to where we're working now with the [Afghan] people and the [Afghan] government to bring it to a democracy," she said. "Other successes include rounding up the key leaders of Al-Qaeda and associates and also in cutting of the financial contributions that are the power behind terrorism."
Graffy said one of the United States' top priorities in the future will be increased cooperation with other countries to prevent terrorists from acquiring weapons of mass destruction, as well as intelligence exchanges that would foil potential terrorist attacks.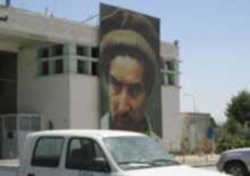 A portrait of Ahmad Shah Mas'ud adorning Kabul's international airport long after his 2001 assassination (AFP)
LARGER THAN LIFE Ahmad Shah Mas'ud gained international notoriety during the Taliban rule (1994-2001) as the leader of the only military group that the hard-line regime failed to crush. The public stature of the United Front (aka Northern Alliance) commander arguably reached its zenith after he was assassinated by Al-Qaeda killers posing as journalists on September 9, 2001. (more)
RELATED ARTICLES
Interview: Afghan Vice Presidential Candidate Speaks With RFE/RL
Afghanistan: Report Of Mas'ud's Demise Unleashes Speculation On Region's Future
Afghanistan: Talk Of Strikes Throws Lifeline To Opposition
SUBSCRIBE
For weekly news and analysis on Afghanistan by e-mail,
subscribe to "RFE/RL Afghanistan Report."