Up To 16 Dead In U.S. Kabul Embassy Bombing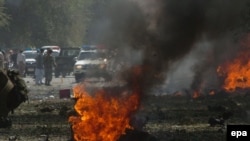 Scene of car bombing in Kabul on September 8 (epa) KABUL, September 8, 2006 (RFE/RL) -- Up to 16 people are reported to have been killed in a suicide car bomb attack close to the U.S. Embassy in the Afghan capital, Kabul.
The U.S. military says two U.S. soldiers died in the attack.
"I am on the street, and I am looking at the dead bodies," a witness told RFE/RL's Radio Free Afghanistan shortly after the blast. "I can see the bodies of at least three foreigners. It was a huge explosion. At least two cars have been badly damaged, and I can see body parts spread out as far as 300 meters from the blast."
AP quoted a U.S. military spokesperson as saying a U.S. convoy was the target of the attack.
(with agency reports)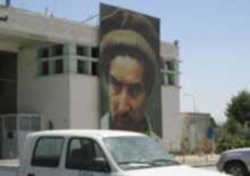 A portrait of Ahmad Shah Mas'ud adorning Kabul's international airport long after his 2001 assassination (AFP)
LARGER THAN LIFE Ahmad Shah Mas'ud gained international notoriety during the Taliban rule (1994-2001) as the leader of the only military group that the hard-line regime failed to crush. The public stature of the United Front (aka Northern Alliance) commander arguably reached its zenith after he was assassinated by Al-Qaeda killers posing as journalists on September 9, 2001. (more)
RELATED ARTICLES
Interview: Afghan Vice Presidential Candidate Speaks With RFE/RL
Afghanistan: Report Of Mas'ud's Demise Unleashes Speculation On Region's Future
Afghanistan: Talk Of Strikes Throws Lifeline To Opposition
SUBSCRIBE
For weekly news and analysis on Afghanistan by e-mail,
subscribe to "RFE/RL Afghanistan Report."