The U.S. military says two U.S. soldiers died in the attack.
"I am on the street, and I am looking at the dead bodies," a witness told RFE/RL's Radio Free Afghanistan shortly after the blast. "I can see the bodies of at least three foreigners. It was a huge explosion. At least two cars have been badly damaged, and I can see body parts spread out as far as 300 meters from the blast."
AP quoted a U.S. military spokesperson as saying a U.S. convoy was the target of the attack.
(with agency reports)
The 'Lion Of Panjshir'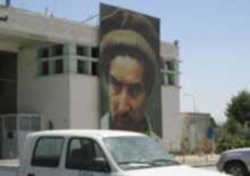 A portrait of Ahmad Shah Mas'ud adorning Kabul's international airport long after his 2001 assassination (AFP)
LARGER THAN LIFE Ahmad Shah Mas'ud gained international notoriety during the Taliban rule (1994-2001) as the leader of the only military group that the hard-line regime failed to crush. The public stature of the United Front (aka Northern Alliance) commander arguably reached its zenith after he was assassinated by Al-Qaeda killers posing as journalists on September 9, 2001. (more)
RELATED ARTICLES
Interview: Afghan Vice Presidential Candidate Speaks With RFE/RL
Afghanistan: Report Of Mas'ud's Demise Unleashes Speculation On Region's Future
Afghanistan: Talk Of Strikes Throws Lifeline To Opposition
SUBSCRIBE
For weekly news and analysis on Afghanistan by e-mail,
subscribe to "RFE/RL Afghanistan Report."