Although the report will not be released until next month, UN Office on Drugs and Crime (UNODC) Executive Director Antonio Maria Costa told President Hamid Karzai in Kabul on September 2 that the numbers are "very alarming.
But even as the numbers shoot in the wrong direction, there are steps that the Afghan government might take to help reverse the trend without harming Afghanistan's farmers. Karzai emerged on September 4 asserting that there is a direct relationship between security and drugs.
He blamed three factors for insecurity in Afghanistan: terrorism, foreign support for terrorism, and opium cultivation, which he said also aids terrorists. He warned starkly, "Either we kill poppies, or poppies will kill us."

Reluctance On Two Fronts

The NATO-led International Security Assistance Force (ISAF) has expanded its area of responsibility to include southern Afghanistan, but has in general sought to steer clear of the question of narcotics.

Costa appeared to warn against such a hands-off approach in February 2004. He argued at the time that "fighting drug trafficking equals fighting terrorism."
In the short term, the UNODC goals of prosecuting trafficking kingpins and curbing corruption are efforts on which the Karzai administration can seriously concentrate. They should include the prosecution of government officials who are involved in any aspect of the drug industry.
Drawing ISAF attention to counternarcotics has proven a formidable task, made more difficult by the current increase in terrorist activities in ISAF's theaters of operation.
For its part, the Afghan government appears reluctant to conduct an aggressive counternarcotics program that includes the wholesale destruction of poppy fields -- something that would require aerial spraying. Kabul has expressed concerned about the livelihood of farmers, arguing that alternative crops must be introduced to replace the income generated by opium poppies.
The UNODC Prescription
In its report in 2004, the UNODC urged Kabul to pursue four goals. They were: the eradication of opium; the prosecution of major drug-trafficking cases; a crackdown on corrupt officials; and a reinforced counternarcotics structure.
Judging by the UNODC's numbers, eradication efforts in the past 20 months have been largely unsuccessful. The only major change concerns the fourth goal: the establishment of a Counternarcotics Ministry and a counternarcotics force within the Interior Ministry. The results are not obvious, however, despite numerous conferences and meetings on counternarcotics and sweeping declarations against the opium menace.
While eradication is a necessary component of counternarcotics, it is a costly and dangerous undertaking. It would also require a robust and disciplined police force -- something that Afghanistan lacks -- to enforce. Arguably, eradication must also proceed in conjunction with programs to provide farmers with alternative livelihoods to prevent further blows to already beleaguered Afghans.
In the short term, the UNODC goals of prosecuting trafficking kingpins and curbing corruption are efforts on which the Karzai administration can seriously concentrate. They should include the prosecution of government officials who are involved in any aspect of the drug industry.
Afghan Progress
Costa noted that the international community has tried to lay the foundations for such efforts. In Kabul with Karzai, Costa touted the training of police and prosecutors, and the construction of courthouses and detention centers. "Now," he said, the "responsibility for using the judicial system to impose rule of law and reestablish confidence" in the central government lies with the government itself. Costa stressed that "significant arrests and convictions will set an example and serve as a deterrent" against such crime.
In general, Afghanistan's judicial system remains in utter disarray. But the Supreme Court that took the bench in August provides hope that the country's judicial system might be guided by a generally moderate and technocratic body with minimal ties to former or current warlords -- some of whom are active in the narcotics industry.
Karzai took another promising step in late August. That's when he tasked Attorney General Abdul Jabbar Sabbit with "cracking down, arresting, and prosecuting the perpetrators of corruption at all government offices." Sabbit's mandate is to "take decisive action in eliminating corruption at all levels -- even," the president vowed, "if its tentacles reach high levels of government."
Not Yet Illegal
The UNODC's Costa has pointed out that the criminalization of drug-related activities -- like harvesting manufacturing, and dealing -- is also the government's responsibility. The suggestion is that any ambiguity in the law will be exploited by growers, sellers, and traffickers to continue their trade.
To enforce such laws, Kabul needs to start by cleaning house itself. In addition to its short-term effect, such an approach could bolster the public perception of the central government at a time when it most needs it. The central government must demonstrate that involvement in narcotics does not pay, regardless of one's rank or social status.
But it is well advised to act, if for no other reason than to win trust among the Afghan public and the international community. One of the implications of the UNODC's harsh assessment is that, unless it is for reasons of conscience, there is currently little to deter Afghans from participating in the drug trade.
UN Numbers
The UNODC estimated that there has been a 59-percent increase in opium cultivation -- from 104,000 to 165,000 hectares. The trend appears to be linked to instability in southern Afghanistan, where loosely affiliated opponents of the central government who might best be described as neo-Taliban -- including drug lords -- have stepped up their disruptive activities.
In the southern Helmand Province, where neo-Taliban have been particularly active, opium cultivation soared 162 percent.
Yield figures are similarly discouraging. Costa said "a staggering 92 percent of total world supply" of opium will come from this year's Afghan harvest -- some 6,100 tons. That is nearly double the 3,400 tons produced in 2002, the year following the ouster of the fundamentalist Taliban regime.
Opium In Afghanistan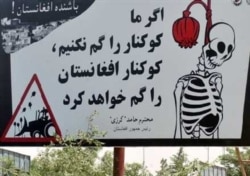 An antidrug billboard in Kabul shows a skeleton hanging from an opium bulb (AFP)
OPIUM FARMING ON THE RISE Despite a nationwide program by the Afghan government to eradicate opium-poppy fields and offer farmers alternative crops, international experts say that the 2006 opium crop will be as much as 40 percent larger than the previous year's. Afghanistan is the largest producer of opium in the world, and the source of as much as 90 percent of Europe's heroin.(more)
RELATED ARTICLES
Narcotics Supply Reduced, But Afghanistan Still Suffering
Saffron Could Help Wean Farmers Off Opium Poppies
Poppy-Eradication Drive Launched In Western Province
Insurgency Gains Ground As Poppy-Eradication Efforts Struggle
UN Drug Agency Promotes 'Alternative Development' For Curbing Poppy Cultivation
SUBSCRIBE
For weekly news and analysis on Afghanistan by e-mail,
subscribe to "RFE/RL Afghanistan Report."