Putin said in a televised comment that the event was still another step in the revival of Russia's national spiritual culture "from the Baltic to the Pacific Ocean."
He spoke outside the Christ the Savior Cathedral in the center of the Baltic Sea city after a ceremony led by Russian Orthodox Patriarch Aleksy II.
The city of Kaliningrad, formerly known as Koenigsberg, used to be the capital of German East Prussia. It was annexed by the former Soviet Union at the end of World War II.
(AP)
The Russian Orthodox Church
The Russian Orthodox Church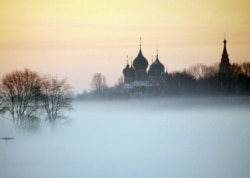 An Orthodox church in the Russian city of Yaroslavl (TASS file photo)

CHURCH AND STATE: The Russian Orthodox Church is not only Russia's major religious confession, but also a powerful force in the political and social life of the country. President Vladimir Putin and other leading figures are conspicuous adherents and frequently meet with senior members of the Church hierarchy. Increasingly in recent years the Church has sought to play a larger role in determining Russia's domestic and foreign policies. In April, the Church hosted a major conference devoted to the theme of Russia's role in the 21st-century world....(more)
RELATED ARTICLES
Orthodox Church Discusses Morality And Human Rights
Russian Church Blames Hate Crimes On Amorality
Orthodox And Catholics -- Heading Toward Reconciliation?
Rights Groups Say Country Intolerant To Minority Religions
Orthodox Church States Its Case For More Involvement In Foreign, Domestic Policies

WEB SPECIAL: A thematic webpage devoted to issues of religious tolerance in RFE/RL's broadcast region and around the globe