PRAGUE, September 11, 2006 (RFE/RL) -- You probably remember his face: glasses, dark eyes, and a long thick black beard. He wore a black turban and was often accompanied by a one-eyed translator.
Five years ago he was one of the people that appeared on international television networks on an almost daily basis. Mullah Abdul Salem Zaeef was the face of the then mysterious Taliban regime.
Mullah Zaeef says he doesn't want to join those Taliban who are waging a war against coalition and Afghan forces. He says, however, that he will always remain a talib, which means a "student of truth and knowledge."
Leading Taliban Spokesman
He was their mouthpiece, the man who repeatedly rejected U.S. demands to extradite Al-Qaeda chief Osama bin Laden.
He ended up being one of the only senior Taliban members who spent more than three years in the U.S. detention center in Guantanamo Bay.
Yet he does not regret that the Taliban did not hand over the Saudi-born millionaire -- who is believed to be the mastermind of the 9/11 terrorist attacks -- over to Washington.
"No [I have no regrets]; we were defending [the dignity] of Islam and the rights of Afghanistan," he said. "We condemned the attacks in the United States. We said that there should be an investigation to find the culprits. But handing over Osama without proof to the United States was not a rational thing to do. Islam is the religion of rationality and justice."
The Taliban had, among other things, banned television in Afghanistan. But Mullah Zaeef, who was residing in Islamabad in 2001 and had seen the images of destruction and death of the 9/11 attacks on television. He said it was sad to see but still not enough to convince the Taliban to give up the man they considered their guest.
Creating Enmity
So Zaeef continued making defiant statements and lambasting the United States while at the same time trying to avert a war he knew was coming.
"I talked with the U.S., I was in touch with the United Nations, Islamic countries, and diplomats from other countries," he said. "I wanted to resolve the issue through understanding and talks, not through war. I believe and still believe that war creates enmity among nations and it never solves anything."
The United States and its allies attacked Afghanistan in October 2001. While bombs were falling on his country Zaeef remained in Islamabad and kept giving regular press briefings in which he accused U.S.-led forces of killing Afghan civilians.
The sustained air strikes along with a ground offensive by the Northern Alliance led to the fall of the Taliban.
About two months later, Pakistan arrested Zaeef and deported him to Afghanistan where he was taken into custody by U.S. forces.
Life In Cuba
The 38-year-old Zaeef is still bitter about the way Pakistan treated him and says the move was "illegal." It landed him in several U.S. detention centers, including Guantanamo Bay, Cuba, where he was for three years and five months.
He says he was questioned about the whereabouts of Taliban leader Mullah Omar and also bin Laden, a man he says he has never met.
Zaeef recently published a book about his time in Guantanamo titled "A Picture Of Guantanamo." He claims in the book that detainees were mistreated and humiliated.
"Human rights and religious principles were never respected in [Guantanamo Bay]," he said. "I have written about this in some 156 pages and I have described the situation there and how I and other prisoners were treated. But I would like to point out two things; there was no law and the rights of [detainees] were not being observed."
Zaeef was released from Guantanamo after he accepted certain conditions.
Conditionally Released
"The conditions were that I should remain in Afghanistan and I should not participate in attacks against the United States, its allies, and the Afghan government," he said. "I should also not join the Taliban."
Mullah Zaeef says he doesn't want to join those Taliban who are waging a war against coalition and Afghan forces. He says, however, that he will always remain a talib, which means a "student of truth and knowledge."
Zaeef says he is watching with great concern the increasing violence in his homeland.
"You have to wonder why there are suicide attacks," Zaeef said. "Why does someone kill himself and others? They searched people's houses, they searched women, and they sent people to Guantanamo. The prisons in Kandahar...[and] Baghram have been filled with people. Mistakes have been made but nothing is being done to correct them."
He doesn't want to go back to his hometown and former Taliban stronghold Kandahar, where he says there is no security.
"I am in Kabul now, I live my life with my children," he said. "I am in my house, I help with preparing food. The government had told me that for one year you should stay in Kabul and be under control. The one year ended [a few years ago] and until now I have not decided what I will do in the future."
The former Taliban envoy says all he wants now is a normal life with his nine children.
The 'Lion Of Panjshir'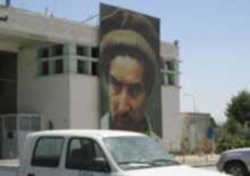 A portrait of Ahmad Shah Mas'ud adorning Kabul's international airport long after his 2001 assassination (AFP)
LARGER THAN LIFE Ahmad Shah Mas'ud gained international notoriety during the Taliban rule (1994-2001) as the leader of the only military group that the hard-line regime failed to crush. The public stature of the United Front (aka Northern Alliance) commander arguably reached its zenith after he was assassinated by Al-Qaeda killers posing as journalists on September 9, 2001. (more)
RELATED ARTICLES
Interview: Afghan Vice Presidential Candidate Speaks With RFE/RL
Afghanistan: Report Of Mas'ud's Demise Unleashes Speculation On Region's Future
Afghanistan: Talk Of Strikes Throws Lifeline To Opposition
SUBSCRIBE
For weekly news and analysis on Afghanistan by e-mail,
subscribe to "RFE/RL Afghanistan Report."