PRAGUE, September 12, 2006 (RFE/RL) -- The UN's latest report on Afghan poppy cultivation concludes that the country's opium eradication program is failing.
Despite millions of dollars spent to wean Afghan farmers off of the illegal opium poppy crop, the UN's Office on Drugs and Crime says poppy cultivation across Afghanistan increased 59 percent during the last year.
Afghan President Hamid Karzai's government faced an angry backlash from farmers in southern Afghanistan last year amid rumors that western military aircraft were being used to spray poison chemicals on poppy fields.
More Planting In Southern Provinces
The huge majority of that increase is a result of large opium crops planted this year in volatile southern provinces where U.S., NATO, and Afghan government troops are fighting a resurgent Taliban.
UNODC Executive Director Antonio Maria Costa is now linking the Afghan drug trade to the resurgence of the Taliban in southern Afghanistan.
"We need to increase the security in that part of the country," Costa says. "I am pleading for greater resources to be made available to NATO so that NATO can, indeed, fight the double attacks -- the attacks by the [drug] traffickers and, generally speaking, by the drug economy on the one hand and the [Taliban] insurgency on the other [hand]."
Costa says changes need to be made to Kabul's antinarcotics strategy. That strategy calls for the Afghan government to lead all antinarcotics operations and for NATO to get involved in eradication efforts only when their help is requested by Kabul.
The plan received international backing earlier this year at the London Conference on Afghanistan. But Costa says Afghanistan's record opium cultivation this year shows that it is not enough to offer development aid to Afghan farmers who grow crops other than opium poppies. He says NATO needs to take an active role in destroying the illegal opium poppy fields that they come across.
Eradication And Security Linked
"I plead for NATO to move on in its own responsibility," he said. "It is clear that a mandate is not there [for NATO forces to destroy opium crops without such a request from Kabul]. But unless there is recognition that there is a risk coming -- a military risk coming -- from the opium cultivation in the south, I am afraid it would be very difficult to solve the security issue."
The British commander of the NATO-ISAF mission, Lieutenant General David Richards, spoke to RFE/RL last month about Afghanistan's current counternarcotics strategy.
He said that under the internationally backed plan, NATO is obliged to support antidrug missions when asked to do so by the government in Kabul.
But Richards says opium is "not NATO's principal concern." He says the role of his troops -- if any -- in opium drug eradication would be to support Afghan government efforts.
"NATO-ISAF is not targeting farmers," Richards said. "We understand exactly that there must be other ways for them to make a living before we stop them -- if we ever got involved with it -- growing their poppy, because they have to feed their families in some way."
Still, the NATO-led ISAF commander acknowledges that Afghan drug lords and their ties with Taliban militants pose a security threat to Afghanistan.
"We also know that, at the end of the day, narcotics has got to be eradicated from this country or there will never be the peace and stability in the long term," he said. "So [counternarcotics efforts are] there. But it is not our immediate agenda. And we have other things that we'd like to do to help people out of their predicament."
Kabul Disagrees With Costa
Meanwhile, officials from Kabul say they do not agree with Costa's call for foreign troops to start destroying opium crops. Standing alongside the UNODC chief at a press conference in Brussels today, Afghan Counternarcotics Minister Habibullah Qaderi interrupted Costa at one point to express Kabul's opposition to the idea.
"We would still prefer that [opium-crop eradication] is done by the Afghan forces supported by NATO," he said. "That's what I believe would be best."
Indeed, Afghan President Hamid Karzai's government faced an angry backlash from farmers in southern Afghanistan last year amid rumors that western military aircraft were being used to spray poison chemicals on poppy fields.
The U.S.-led coalition and ISAF deny that their aircraft have been used for spraying opium fields. But the incident convinced U.S. and NATO military officials that the use of foreign troops to destroy opium crops would anger Afghan farmers -- making many more likely to support guerrilla fighters in the future.
The complete report by the UNODC on Afghan opium cultivation during the last year is due to be published at the end of October.
(RFE/RL correspondent Ahto Lobjakas contributed to this report from Brussels.)
Opium In Afghanistan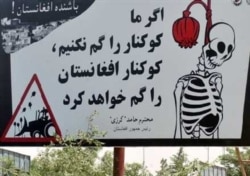 An antidrug billboard in Kabul shows a skeleton hanging from an opium bulb (AFP)
OPIUM FARMING ON THE RISE Despite a nationwide program by the Afghan government to eradicate opium-poppy fields and offer farmers alternative crops, international experts say that the 2006 opium crop will be as much as 40 percent larger than the previous year's. Afghanistan is the largest producer of opium in the world, and the source of as much as 90 percent of Europe's heroin.(more)
RELATED ARTICLES
Narcotics Supply Reduced, But Afghanistan Still Suffering
Saffron Could Help Wean Farmers Off Opium Poppies
Poppy-Eradication Drive Launched In Western Province
Insurgency Gains Ground As Poppy-Eradication Efforts Struggle
UN Drug Agency Promotes 'Alternative Development' For Curbing Poppy Cultivation
SUBSCRIBE
For weekly news and analysis on Afghanistan by e-mail,
subscribe to "RFE/RL Afghanistan Report."