UNESCO Director-General Koichiro Matsuura personally gave Karimov the award in Tashkent on September 8.
Freedom House and Human Rights Watch are leading the campaign against the UNESCO decision.
Veronika Szente-Goldston, Human Rights Watch's advocacy director for Europe and Central Asia, expressed her organization's shock at news of the award in comments to RFE/RL's Uzbek Service.
For Human Rights Watch, Freedom House, and others the preservation of cultural monuments is not enough to justify giving President Karimov any award.
'A Bad Joke'
"We think that this is absolutely scandalous," she said. "When we first saw the announcement we thought that it must be a bad joke."
Freedom House joined Human Rights Watch in criticizing UNESCO and the UN agency's awarding of Karimov.
Alexander Gupman, the senior program manager at Freedom House, said his group was similarly amazed at the UNESCO decision.
"Freedom House strongly condemns this decision to reward the dictator Karimov in Uzbekistan who has been part of a massacre of civilians; his regime has been accused of torture as well as other human rights abuses," he said.
UNESCO introduced this medal in 1983, naming it after the famous Buddhist temple in central Java, Indonesia, that dates from the 8th-9th centuries and was restored with UNESCO help in the 1970s. The Borobudur medals -- gold, silver, and bronze -- are given mainly for contributions in preserving cultural heritage sites.
Monument Preservation
Since its independence in 1991, Uzbekistan has spent a great deal of attention to restoring cultural sites in the country that were neglected during the time Uzbekistan was a Soviet republic. Most noticeable is the Gur-i-Amir site in Samarkand, the grave of Tamerlane the conqueror. Once hidden behind Soviet-built apartments, it is now at the start of an open-air museum walk that takes one to the Registan -- the complex of madrasahs -- also restored since independence.
UNESCO media relations representative and regional representative Vladimir Sergeev noted this when announcing that Karimov would receive the award.
"It needs to be said that at the conclusion of his visit to Uzbekistan, UNESCO Director-General Koichiro Matsuura awarded the president of the country the Borobudur gold medal," he said. "This gesture testifies to UNESCO's recognition of the large contribution of Uzbekistan for the preservation of the cultural monuments on the territory of the country."
Though the Samarkand and other ancient monuments in Uzbekistan have indeed been beautifully restored, some argue that it often required relocating thousands of people to other often worse housing. Others point out that the restorations came less from a desire to revive the region's past glory than as part of a nationalist campaign. Some scholars claim that Tamerlane -- now propagandized as the father of the Uzbek nation -- was not even an ethnic Uzbek (though he was born in Shahrisabz, currently part of Uzbekistan).
Criticism Of UNESCO
For Human Rights Watch, Freedom House, and others the preservation of cultural monuments is not enough to justify giving Karimov any award.
Szente-Goldston of Human Rights Watch said UNESCO should align its policies more with the international community while maintaining the ideals of the United Nations.
"The international community could not have more cause to have a united front when it comes to its policy toward Uzbekistan," she said. "That a UN agency would be rewarding a dictator with a prize of this kind, it just shows also the deep lack of coordination between UN agencies and the disrespect shown by UNESCO toward the need to coordinate between UN agencies and the need -- as UN Secretary-General Kofi Annan has made clear -- for all to make human rights a central pillar of their work."
And Szente-Goldston said the timing of the award is not especially favorable.
"The UN Human Rights Council is going to convene for its first substantive session next week and we expect that body to take up the question of Uzbekistan and condemn the human rights situation in Uzbekistan and to take some action," she added.
A statement from Human Rights Watch Executive Director Holly Cartner, released on September 12, noted that the "damaging impact of UNESCO's deeply misguided decision is going to be hard to undo. President Karimov has already had ample opportunity to use it for both domestic and international propaganda purposes, flagging it as an endorsement of his repressive policies."
(RFE/RL's Uzbek Service contributed to this report.)
U.S. Report On Global Human Rights
U.S. Report On Global Human Rights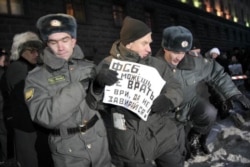 Police in Moscow arrest human rights demonstrators on February 1 (courtesy photo)
THE RECORD ON RIGHTS: On March 8, the U.S. State Department issued its global report on human rights. According to the report, 15 years after the breakup of the Soviet Union, human rights are improving in many post-communist countries. But problems persist in others, it says, despite the worldwide explosion of information and Western efforts to spread democracy. (more)
For more detailed information, see:
Azerbaijan Cited For Political Harassment, Police Brutality
Child Labor, Human Trafficking Cited In U.S. Report On Afghanistan
U.S. Says China, Iran 'Most Systematic' Rights Violators
Human Rights Not A Priority In Central Asia, U.S. Report Says
U.S. Report Points To Serious Abuses In Iraq
Abuses In Chechnya, Centralized Power Cited In U.S Report On Russia
U.S. Says Serious Human Rights Violations Occurring In Iran



SUBSCRIBE
For a regular review of civil-society developments throughout RFE/RL's broadcast region,
subscribe to "RFE/RL (Un)Civil Societies."