Senior Prosecutor To Probe HIV Outbreak In Kazakhstan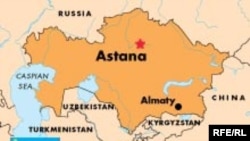 (RFE/RL) 14 September 2006 -- Kazakhstan's chief prosecutor has entrusted one of his senior aides with the task of investigating an HIV epidemic in the south of the country.
The Prosecutor-General's Office said the decision was prompted by the "emergency nature" of the health situation in the region.
At least 52 children have been tested HIV-positive in the area since May.
Health authorities believe the children were infected either through unsterilized syringes or by transfusions of contaminated blood.
Kazakhstan's State Statistics Agency on September 14 released figures showing that, as of July 1, there are nearly 6,500 people officially registered with HIV in the country.
The agency says 400 people have AIDS.
(Kazakhstan Today, Interfax-Kazakhstan)
RFE/RL Central Asia Report

SUBSCRIBE For regular news and analysis on all five Central Asian countries by e-mail,
subscribe to "RFE/RL Central Asia Report."