He and Venezuelan President Hugo Chavez will visit an oil field for a ceremony marking the start of a joint drilling project.

Upon arrival on September 17, Ahmadinejad hailed the strong ties between Iran and Venezuela.


"The collaboration between the people of Venezuela and Iran, between the governments of Venezuela and Iran, and between the two country's leaders, surely will benefit all the people of the world and will be against injustice and oppression," Ahmadinejad said.
After his talks with Ahmadinejad, Chavez said Iran and Venezuela are seeking "a balance in the world," allegedly to counter U.S. power. Ahmadinejad said the two countries have "common goals and interests."
Chavez has defended Iran's nuclear program, which Washington and others have accused of hiding a weapons program and the UN nuclear watchdog has warned it cannot guarantee is peaceful.
Iran has said it will back Venezuela's bid for a UN Security Council seat.

During the visit, 20 commercial accords will be signed, including plans to set up a joint petrochemical company. The two governments plan to set up factories to produce bricks, cement, and bicycles, and Chavez says they will even manufacture cars together.

(Reuters)
Security Guarantees For Iran?
Security Guarantees For Iran?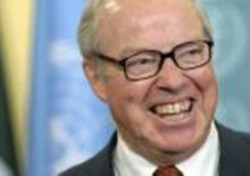 Hans Blix (CTK)

SECURITY GUARANTEES On January 26, RFE/RL Radio Farda correspondent Fatemeh Aman spoke with former UN chief weapons inspector HANS BLIX about the confrontation between Iran and the international community over Tehran's nuclear ambitions. Blix urged the United States to participate in direct negotiations with Tehran and to offer Iran security guarantees that are similar to those being discussed with North Korea...(more)
LISTEN
Listen to the complete interview (about five minutes):

Real Audio
Windows Media

THE COMPLETE STORY: RFE/RL's complete coverage of controversy surrounding Iran's nuclear program.