Serbia Jails Kosovo Albanian For War Crimes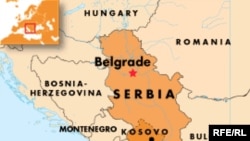 (RFE/RL) September 18 -- A Serbian war crimes court today sentenced Anton Lekaj, a former Kosovo Albanian rebel, to 13 years in prison for crimes against civilians committed after the 1999 war in the breakaway province.
A member of the guerrilla Kosovo Liberation Army (UCK), Lekaj was sentenced for the killing of four people, and the torture, rape and sexual molestation of others.
Lekaj denied the charges and said he had nothing to confess to or apologize for.
Kosovo is a Serbian province administered by the United Nations.
(dpa)