Five Police Officers Killed In Chechnya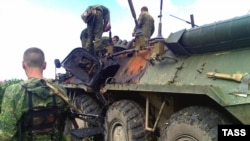 Russian soldiers remove bodies from an armored personnel carrier following an attack in July (ITAR-TASS) September 21, 2006 -- Chechen officials say gunmen today killed five policemen in the Chechen capital, Grozny.
In the neighboring republic of Ingushetia, five policemen were wounded when unidentified assailants fired grenades at them from a passing car.
(AP, AFP)



UPDATED CONSTANTLY: Visit RFE/RL's Russian-language website, featuring news, analysis, features, streaming audio, and more, in Russian, from RFE/RL's Russian Service.
ARCHIVE
RFE/RL's English-language
coverage of Russia
.