UN Envoys Condemn Bush Interrogation Plan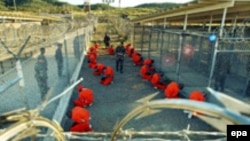 Detainees at Guantanamo Bay (file photo) (epa) September 21, 2006 -- UN human rights investigators say legislation proposed by U.S. President George W. Bush enabling the use of tough interrogation techniques on foreign terrorism suspects would breach the Geneva Conventions.
The five independent envoys to the UN Human Rights Council said on September 21 that Washington's recent admission that it runs secret detention centers abroad pointed to "very serious human rights violations" in the hunt for alleged terrorists.
The envoys are calling for the closure of the U.S. prison at Guantanamo, saying rights violations continue to occur there.
The five investigators have tried since June 2004 to visit Guantanamo. Washington has said it would allow some of them to go but not to see prisoners privately, one of the investigators' key demands.
The U.S. ambassador to the UN in Geneva, Warren Tichenor, called the envoys' report ill-informed and said he regrets the decision of the five not to visit Guantanamo.
(Reuters)