Bush's comments came after Pakistan's President Pervez Musharraf said in an interview that former Deputy Secretary of State Richard Armitage threatened to bomb his country "back to the Stone Age" after the September 11, 2001, attacks unless Pakistan helped Washington fight Al-Qaeda and the Taliban.
But at a joint White House press conference with Musharraf today, Bush said he had been surprised by the alleged threat.
"I guess I was taken aback by the harshness of the words," he said. "All I can tell you is that shortly after 9/11, [then] Secretary [of State] Colin Powell came in and said, 'President Musharraf understands the stakes and he wants to join and help rout out an enemy that has come and killed 3,000 of our citizens."
For his part, Musharraf said he couldn't discuss the issue because of his contract with the publisher of his forthcoming autobiography, "In the Line of Fire," which goes on sale worldwide next week.
"I am launching my book on [September 25], and I am honor-bound to [my publisher] Simon and Shuster not to comment on the book before that day," he said.
Musharraf was less reluctant to speak earlier this week. In an interview to be broadcast on September 24 on the U.S. CBS network's "60 Minutes" program, he called the threat "very rude." Still, he said, he decided to side with the United States because he believed it was in Pakistan's best interest.
Armitage today denied to CNN that he had threatened Pakistan, which until then had been a supporter of Afghanistan's Taliban leadership. He said only that he told a Pakistani official in a "straightforward" way that they would have to decide whether to be either with the United States or against it.
Defends Tribal Pact
At today's White House news conference, Musharraf also denied that a peace treaty between his government and tribes near the Pakistan-Afghanistan border was favorable to the Taliban and Al-Qaeda. He called that characterization a misinterpretation by the government of Afghanistan -- and the news media.
Afghan President Hamid Karzai says the treaty gives the Taliban and Al-Qaeda freedom to attack Afghanistan with impunity from Pakistani territory. Musharraf said today that the treaty is strictly with the historically indigenous tribes of the border region, and is meant to prevent any activity there by Al-Qaeda or the Taliban.
"There will be no Al-Qaeda activity in our tribal [areas] or across the border in Afghanistan," he said. "There will be no Taliban activity in our tribal [areas] or across in Afghanistan. There will be no Talibanization, which is an obscurantist thought or way of life."
Reaffirming Cooperation
The U.S. administration has urged Musharraf's government to do more to prevent cross-border Taliban attacks in Afghanistan, but Bush said today that he believes Musharraf when he says the treaty is meant to limit militant activity along the Pakistan-Afghanistan border.
Both Bush and Musharraf said their two governments cooperate fully in the war against the Taliban and Al-Qaeda, and in the hunt for Al-Qaeda's elusive founder, Osama bin Laden.
"We're on the hunt together," Bush said. "It's in [Musharraf's] interest that Al-Qaeda be brought to justice. And it's in our interests. And we collaborate and we strategize and we talk a lot about how best to do this. All I can tell you is that when Osama bin Laden is found, he will be brought to justice."
Bush, Karzai, and Musharraf will meet on September 27 at the White House. The resurgence of Taliban violence in Afghanistan -- and its suspected use of Pakistan to mount the attacks -- is certain to be the focus of their discussion.
Afghanistan And Pakistan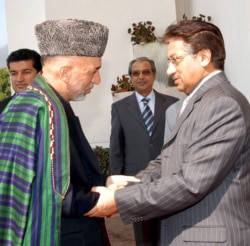 Afghan President Hamid Karzai (left) with Pakistani President Pervez Musharraf in Islamabad in October 2005 (epa)

ACROSS A DIFFICULT BORDER. The contested border between Pakistan and Afghanistan is some 2,500 kilometers long and runs through some of the most rugged, inhospitable territory on Earth. Controlling that border and preventing Taliban militants from using Pakistan as a staging ground for attacks in Afghanistan is an essential part of the U.S.-led international coalition's strategy for stabilizing Afghanistan. Officials in Kabul have been pointing their fingers at Pakistan for some time, accusing Islamabad or intelligence services of turning a blind eye to cross-border terrorism targeting the Afghan central government. Many observers remain convinced that much of the former Taliban regime's leadership -- along with leaders of Al-Qaeda -- are operating in the lawless Afghan-Pakistani border region.... (more)
RELATED ARTICLES
Pakistan-Afghanistan Conflicts Continue
Karzai, Musharraf Spar Ahead Of Bush Meeting
Musharraf Says Taliban Could Spark Pashtun 'National War'
Afghan Minister Attacks Pakistani Support For 'Terrorism'
Historical Context Of Afghan-Pakistani Relations
Afghanistan/Pakistan: 'Inseparable Twins' In Need Of Separation
ARCHIVE
RFE/RL
coverage of Afghanistan
. RFE/RL
coverage of Pakistan
.
SUBSCRIBE
For weekly news and analysis on Afghanistan by e-mail,
subscribe to "RFE/RL Afghanistan Report."