Former Russian Minister Ready For U.S. Trial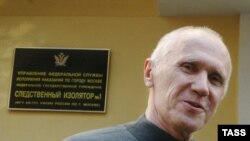 Yevgeny Adamov in Moscow following his release on bail in July (ITAR-TASS) September 27, 2006 -- Former Russian Atomic Energy Minister Yevgeny Adamov, who faces charges of tax evasion and money laundering in the United States, says he is ready to cooperate with U.S. investigators under certain conditions.
Adamov insisted he is innocent at a press conference in Moscow today, two days after his former partner pleaded guilty on similar charges.
"I continue to believe today that I should stand trial in a U.S. court as long as the United States gives guarantees to our state that my participation in this trial will not become a channel for a leak of information that is sensitive to our country," Adamov said.
U.S. prosecutors allege Adamov and Mark Kaushansky stole $9 million in U.S. money intended to improve Russia's nuclear safety. Kaushansky pleaded guilty on September 25 in a U.S. federal court.
Adamov was arrested in May 2005 in Switzerland and extradited to Russia to face similar charges. He has been free on bail since July.
(ITAR-TASS, AP)

SUBSCRIBE For news and analysis on Russia by e-mail,
subscribe to "RFE/RL Russia Report."