But on September 27 in Washington, Pakistani President Pervez Musharraf and Afghan President Hamid Karzai sat down to dinner at the White House with U.S. President George W. Bush.
In the days before the dinner, the two presidents had exchanged some harsh words.
War Of Words
In a U.S. television interview earlier in the week, Musharraf said Karzai was turning a blind eye to his deteriorating political situation at home, saying: "He is like an ostrich with his head buried in the sand."
The two leaders have pointed fingers at one another over Al-Qaeda leader Osama bin Laden and other terror leaders. Each denies bin Laden is hiding in his country and says the other leader could do more to find him.
So it came as little surprise that before they sat down to dinner, the bickering leaders shook hands with Bush, but not each other.
Bush considers both men key bulwarks against Islamic radicalism in a volatile region. But they barely looked at one another as the American leader appealed for cooperation against the common enemy of terrorism.
"We've got a lot of challenges facing us," Bush said. "All of us must protect our countries, but at the same time we all must work to make the world a more hopeful place. So today's dinner is a chance for us to strategize together, to talk about the need to cooperate, to make sure that people have got a hopeful future."
Karzai, in interviews in the United States this week, made it repeatedly clear that he sees the Pakistani leader as giving the Taliban safe haven across the border from Afghanistan.
Karzai has cited a recent deal Musharraf signed with tribal chiefs along the Afghanistan border, which the Afghan leader sees as a pact to cede control to the Taliban. The Islamic movement has made gains in recent months as violence has increased in Afghanistan.
The two leaders also have pointed fingers at one another over Al-Qaeda leader Osama bin Laden and other terror leaders. Each denies bin Laden is hiding in his country and says the other leader could do more to find him.
Dinner-Table Diplomacy
Whether Bush's dinner-table diplomacy was able to bring the two leaders any closer in their views remains unclear.
Before the dinner, White House spokesman Tony Snow underlined the fact that Karzai and Musharraf have strong common interests.
"The president has made it clear that they've [Musharraf and Karzai] got a shared interest, and the shared interest is combating terrorism -- Taliban, Al-Qaeda, and other forms of terror -- and also making sure that the two states are successful," Snow said. "And he will remind them of the fact, and I think both men understand that."
But after the meal, the White House issued a bland statement, calling the dinner a "constructive exchange."
In a written statement, Snow said that Karzai and Musharraf are "committed to supporting moderation and defeating extremism through greater intelligence sharing, coordinated action against terrorists, and common efforts to enhance the prosperity of the people of Afghanistan and Pakistan."
Bush's dinner party, just weeks before the November congressional elections in the United States, comes as he faces a growing public skepticism about both the U.S.-led war in Iraq and the U.S. military commitment in Afghanistan.
Afghanistan And Pakistan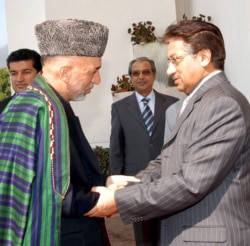 Afghan President Hamid Karzai (left) with Pakistani President Pervez Musharraf in Islamabad in October 2005 (epa)

ACROSS A DIFFICULT BORDER. The contested border between Pakistan and Afghanistan is some 2,500 kilometers long and runs through some of the most rugged, inhospitable territory on Earth. Controlling that border and preventing Taliban militants from using Pakistan as a staging ground for attacks in Afghanistan is an essential part of the U.S.-led international coalition's strategy for stabilizing Afghanistan. Officials in Kabul have been pointing their fingers at Pakistan for some time, accusing Islamabad or intelligence services of turning a blind eye to cross-border terrorism targeting the Afghan central government. Many observers remain convinced that much of the former Taliban regime's leadership -- along with leaders of Al-Qaeda -- are operating in the lawless Afghan-Pakistani border region.... (more)
RELATED ARTICLES
Pakistan-Afghanistan Conflicts Continue
Karzai, Musharraf Spar Ahead Of Bush Meeting
Musharraf Says Taliban Could Spark Pashtun 'National War'
Afghan Minister Attacks Pakistani Support For 'Terrorism'
Historical Context Of Afghan-Pakistani Relations
Afghanistan/Pakistan: 'Inseparable Twins' In Need Of Separation
ARCHIVE
RFE/RL
coverage of Afghanistan
. RFE/RL
coverage of Pakistan
.
SUBSCRIBE
For weekly news and analysis on Afghanistan by e-mail,
subscribe to "RFE/RL Afghanistan Report."