Though they dined and held direct talks, the two presidents' body language reflected the ongoing exchange of recriminations between them and their respective governments. The leaders of these two key allies in the global war against terrorism did not even shake hands or speak with each other in their brief public appearance with Bush.
A Long, Uneasy History
Kabul and Islamabad have never had normal neighborly relations, dating back to Pakistan's founding in 1947.
Most Afghan governments until 1996 -- when the Taliban took charge of Kabul -- have explicitly or implicitly regarded Pakistan as an illegitimate state because of Afghanistan's conviction that Pashtun and Baluch tribes living in Pakistan were forcibly incorporated into the new political entity emerging from the breakdown of British rule in the Indian subcontinent.
Pakistani governments, in turn, have traditionally viewed Afghanistan with suspicion, not only because of Afghanistan's involvement in Pashtun and Baluch affairs, but also because of Kabul's close ties with Islamabad's archenemy, India.
The White House on September 27 said the three leaders had "a constructive exchange on the common challenges facing" the three countries. However, the leaders of Afghanistan and Pakistan did not immediately discuss the meeting in public.
Afghans -- almost universally, although to varying degrees -- believe the Taliban was and remains a Pakistani design to undermine or control their country. When the Taliban regime was in power there was undeniable evidence of Islamabad's support -- something that remains a point of contention for Kabul.
The Post-Taliban Period
In the immediate aftermath of the Taliban period, Karzai personally tried to coexist and cooperate with Pakistan. The period of Kabul-Islamabad detente, albeit at the leadership level, was flaggingly brief and marked with the usual charges and countercharges that also involved an alleged mob attack on the Pakistani Embassy in Kabul in July 2003.
The high-level mudslinging between Karzai and Musharraf began in earnest early in 2006 and, with brief interludes, has not abated in frequency or ferocity.
Karzai's main grievance is that Musharraf is, at best, unable or, at worst, unwilling to curtail the activities of the neo-Taliban inside Pakistan and to break up the support network created by that country's Inter-Services Intelligence (ISI) working through religious establishments along the Afghan border.
Karzai and Musharraf met in Kabul in early September in an apparent attempt to ease tensions. Musharraf said he went to Kabul to "iron out any possible misconceptions" about his country's intentions toward Afghanistan. Addressing a gathering of senior Afghan officials, the Pakistani leader pleaded with them to "stop blaming" Pakistan for all that is happening in Afghanistan, and assured them that neither his government nor the ISI are interfering in Afghan affairs.
The period of good feelings was very short, however, as both sides almost immediately began to pursue their blame game.
Musharraf's 'National War' Comments
Musharraf hit an especially raw nerve in Afghanistan when in a speech to the European Parliament in mid-September he warned of a "national war" by the Pashtuns against foreign forces stationed in Afghanistan, adding that the "center of gravity for terrorism has shifted from Al-Qaeda to the Taliban."
He described the development as "more dangerous" because the Taliban has "roots in the people [i.e. Pashtuns]." Countering Afghan claims, Musharraf unambiguously stated that former Taliban leader Mullah Mohammad Omar is in Afghanistan and has not visited Pakistan since 1995.
The Afghan Foreign Ministry called Musharraf's remarks an "insult' to the Pashtuns, adding that Afghanistan and the international community are aware the Taliban came into existence as part of ISI policies and that they continue to receive logistical and financial support from "specific circles" on the "other side of the Durand Line," referring to the Afghan-Pakistani border, which Kabul does not officially recognize.
During their speeches to the UN General Assembly in New York prior to their White House meeting, the two presidents each pointed to the other country as the main terrorism hub.
A statement issued by the White House on September 27 said the three leaders had "a constructive exchange on the common challenges facing" the three countries. However, the leaders of Afghanistan and Pakistan did not immediately discuss the meeting in public.
However, Musharraf did say that through "good intelligence" his government knows that Al-Qaeda leader Osama bin Laden is in Konar Province in northeastern Afghanistan. Referring to a recent UN report, the Pakistani leader told the London daily "The Times" on September 27 that the insurgency in Afghanistan is Afghan-based and operated -- contradicting Karzai's premise that most of the insurgency is Pakistan-based and conducted by foreigners, mainly Pakistanis.
Musharraf's stance took a hit as he embarked on an official visit to the United Kingdom on September 28. A report compiled by the Defense Academy, a think tank within the U.K. Defense Ministry, that was leaked to the press suggested that the ISI has indirectly assisted Al-Qaeda, the Taliban, and the bombers who attacked transportation systems in Madrid and London. Although London distanced itself from the report's findings and Musharraf vehemently defended the ISI, Karzai and his government could not have asked for a better gift.
It is certain that Kabul will milk the contents of the Defense Academy's report as proof of its claims and thus free itself from most of its responsibilities.
Afghanistan is arguably justified in pointing a finger at Islamabad for not doing enough to stop the insurgents or even for undermining Afghanistan's security. But Afghan officials should be aware that their current policies toward Pakistan -- in particular the apparent resuscitation of the Pashtun and Baluch issues -- are unlikely to deter Islamabad from maintaining options that allow Islamabad to pressure Kabul to stop meddling in Pakistani affairs.
Afghanistan needs international support to quell the ongoing insurgencies, but Kabul must also be proactive in doing its part. The current state of affairs between Karzai and Musharraf can benefit only those who both leaders claim they are fighting -- namely the terrorists and their allies.
Afghanistan And Pakistan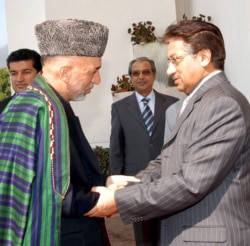 Afghan President Hamid Karzai (left) with Pakistani President Pervez Musharraf in Islamabad in October 2005 (epa)

ACROSS A DIFFICULT BORDER. The contested border between Pakistan and Afghanistan is some 2,500 kilometers long and runs through some of the most rugged, inhospitable territory on Earth. Controlling that border and preventing Taliban militants from using Pakistan as a staging ground for attacks in Afghanistan is an essential part of the U.S.-led international coalition's strategy for stabilizing Afghanistan. Officials in Kabul have been pointing their fingers at Pakistan for some time, accusing Islamabad or intelligence services of turning a blind eye to cross-border terrorism targeting the Afghan central government. Many observers remain convinced that much of the former Taliban regime's leadership -- along with leaders of Al-Qaeda -- are operating in the lawless Afghan-Pakistani border region.... (more)
RELATED ARTICLES
Pakistan-Afghanistan Conflicts Continue
Karzai, Musharraf Spar Ahead Of Bush Meeting
Musharraf Says Taliban Could Spark Pashtun 'National War'
Afghan Minister Attacks Pakistani Support For 'Terrorism'
Historical Context Of Afghan-Pakistani Relations
Afghanistan/Pakistan: 'Inseparable Twins' In Need Of Separation
ARCHIVE
RFE/RL
coverage of Afghanistan
. RFE/RL
coverage of Pakistan
.
SUBSCRIBE
For weekly news and analysis on Afghanistan by e-mail,
subscribe to "RFE/RL Afghanistan Report."