U.S. Authorizes Another $70 Billion For Iraq, Afghan Wars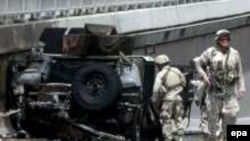 A U.S.military vehicle destroyed in Iraq in August 2005 (epa) September 30, 2006 -- The U.S. Senate today authorized $70 billion for the wars in Iraq and Afghanistan.
The bill now goes to President George W. Bush to be signed into law.
Lawmakers said the $70 billion should be considered a "bridge fund" to last about halfway through the next fiscal year. About $23 billion of that is to replace and repair worn out equipment.
(Reuters)
RFE/RL Exclusive Interviews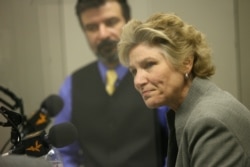 U.S. Undersecretary of State Karen Hughes being interviewed by RFE/RL in Prague on June 11 (RFE/RL)
AT THE MICROPHONE. RFE/RL frequently conducts in-depth interviews with leading newsmakers and analysts from throughout its broadcast region. Transcripts of many of these interviews have been gathered on a special archive page.
Recent Highlights:
Romanian President Traian Basescu | On EU aspirations
Georgian Integration Minister Giorgi Baramidze | On Georgia's relations with NATO, EU
U.S. Ambassador to the IAEA Gregory Schulte | On Iran's nuclear program
Kyrgyz Foreign Minister Alikbek Jekshenkulov | On relations with Uzbekistan
Former Ukrainian President Leonid Kuchma | On the return to power of Viktor Yanukovych