Ivanov, who is also a deputy prime minister in the Russian government, later met with Kyrgyzstan's Prime Minister Feliks Kulov.
Addressing reporters ahead of the meeting, Kulov praised military ties with Russia.
"We greatly appreciate the military and technical assistance we've been receiving from Russia and it is my pleasure to state today that thanks to Russia's help we've already solved and we're solving a number of problems, first of all with regard to the strengthening of our defense capabilities," Kulov said.
Following his talks with Kulov, Ivanov proceeded to the Russian military airbase of Kant, some 30 kilometers of Bishkek.
There, he formally donated military equipment worth $2.5 million to Kyrgyzstan.
On October 5, Ivanov will attend the final phase of a joint Kyrgyz-Russian antiterrorism drill that is under way in southern Osh Region.
The exercise involves some 500 Kyrgyz and Russian troops.
(with material from 24.kg, Interfax, and ITAR-TASS)
Hizb Ut-Tahrir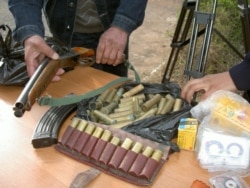 Arms and leaflets allegedly confiscated from Hizb ut-Tahrir members in Kyrgyzstan in May (RFE/RL)

ATTRACTIVE TO THE YOUNG: It is virtually impossible to estimate the size or composition of Hizb ut-Tahrir's membership in Central Asia, because the controversial movement is banned in most places. But some observers say anecdotal evidence suggests the group's core of younger members is growing....(more)
RELATED ARTICLES
Russia Approves List Of 17 'Terrorist' Groups
Extremist Threats, And Doubts, In Kyrgyzstan, Tajikistan
Hizb Ut-Tahrir's Calls For Islamic State Find Support
Hizb Ut-Tahrir Challenges Britian's Proposed Ban
Lone Islamic Party Pursues Dual Path In Tajikistan

A thematic webpage devoted to issues of religious tolerance in RFE/RL's broadcast region and around the globe.