Speaking at the ceremony in Kabul, Afghan President Hamid Karzai thanked all countries involved in securing his country.
"We hope that the international community, Islamic and non-Islamic countries, will very seriously work together on the fight against terror, which is the enemy of humanity and the world''s people," he said. "We thank all the countries who have sent their children to Afghanistan to bring safety to this country."
British Lieutenant General David Richards, commander of the NATO-led International Security Assistance Force (ISAF), formally takes charge of troops in the U.S.-led coalition who were previously led by U.S. Lieutenant General Karl Eikenberry.
Richards now commands more than 33,000 foreign troops in Afghanistan.
Eikenberry called the handover a "historical day" that shows the commitment of NATO to the Afghan people.
The U.S. military will maintain control over its detention centers for suspected terrorists in Afghanistan.
(AP, Reuters, AFP)
The Afghan Insurgency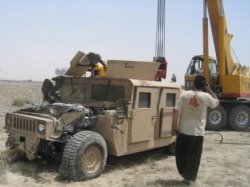 A U.S. military vehicle damaged by insurgents near Kandahar (epa)
HOMEGROWN OR IMPORTED? As attacks against Afghan and international forces continue relentlessly, RFE/RL hosted a briefing to discuss the nature of the Afghan insurgency. The discussion featured Marvin Weinbaum, professor emeritus of political science at the University of Illinois at Urbana-Champaign, and RFE/RL Afghanistan analyst Amin Tarzi.
LISTEN
Listen to the entire briefing (about 83 minutes):
Real Audio
Windows Media
ARCHIVE
RFE/RL's
coverage of Afghanistan
.
SUBSCRIBE
For weekly news and analysis on Afghanistan by e-mail,
subscribe to "RFE/RL Afghanistan Report."