In a column in the "International Herald Tribune," Noghaideli said Russian forces have made "systematic violations" of the agreements. He called for the deployment of international troops.
Noghaideli's comments come at a time of major tensions between Moscow and Tbilisi, triggered by Georgia's deportation of four Russian soldiers accused of spying. Russia has retaliated with a range of sweeping measures, including the severing of transport and postal links with Georgia.
The Russian authorities have also raided Georgian-owned businesses, cracked down on foreign market traders, many of whom are Georgian, and tightened immigration controls.
Georgian authorities on October 6 said that Russia had deported more than 130 Georgians accused of being illegal immigrants.
There are also media reports that the Russian police have asked schools to look for Georgian children whose parents might be illegal migrants. The reports have been confirmed by a Moscow Education Department official but denied by the Interior Ministry.
One of Russia's best-selling novelists, Grigory Chkhartishvili, believes the measures taken against Georgians may also explain a surprise visit paid by tax inspectors paid to his publishers this week. Chkhartishvili, who is better known to readers around the world under his pen-name Boris Akunin, said the police demanded details of his income.
Meanwhile, some 180 Russians who wanted to leave have been flown out of Tbilisi.
Georgian President Mikheil Saakashvili warned on October 5 that the Kremlin's campaign against Georgia has resulted in a wave of xenophobia in Russia, and said other countries should also be concerned at the impact of the crisis.
Saakashvili recently said Russian sanctions against Georgia would "hardly damage" the economy.
For his part, Russian President Vladimir Putin on October 6 urged the Organization for Security and Cooperation in Europe (OSCE) to push for changes in what he called Georgia's aggressive behavior. According to a Kremlin statement, Putin said the trans-Atlantic security watchdog should focus on "stimulating a cardinal correction in the course of Georgia's current leadership, which is aimed at inflaming tension."
One regular source of tension between the two countries -- the presence of Russian bases in Georgia -- has not, however, been affected by the crisis. Russia's lower house of parliament on October 6 ratifed an agreement to withdraw troops from two Russian bases, in Batumi and Akhalkalaki, by the end of 2008. The Duma also ratified an agreement on the transit of Russian troops across Georgia to a base in Armenia. Both agreements were signed in March of this year.
("International Herald Tribune," Reuters, Interfax, AFP, ITAR-TASS)
Moscow And Tbilisi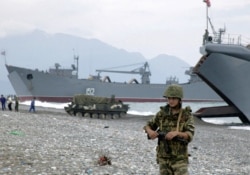 Russian military hardware being withdrawn from a Russian base in Batumi, Georgia, in August 2005 (TASS)

WHAT COMES NEXT? Although Russia is unlikely to push an aggressive military response to the current tensions with Georgia, it has a number of economic, political, and diplomatic options at its disposal. Already on October 1, Russian President Vladimir Putin summoned his inner circle to weigh Moscow's options... (more)
RELATED ARTICLES
Russia Says Georgia Sanctions Will Continue
Russia Suspends Transport, Postal Links To Georgia
EU Commissioner Urges Dialogue With Moscow
Ulterior Motives Seen Behind Escalation Of Spy Row
Georgia Turns Russians Over To OSCE
MORE: Coverage of the situation in Georgian from RFE/RL's Georgian Service and in Russian from RFE/RL's Russian Service.
ARCHIVE
RFE/RL's English-language coverage of
Georgia
and
Russia
.