The alliance said the soldier was killed when a roadside bomb struck near an ISAF patrol in the Panjwayi district of Kandahar Province and attackers then opened fire on troops.
NATO did not release the nationality of the soldier. About 2,300 Canadian soldiers are based in Kandahar and patrol Panjwayi.
Separately, ISAF said two German journalists were killed in northern Afghanistan today. Police said the two, a man and a woman, were working on a documentary. They were travelling on their own when they were killed.
Meanwhile, police in southern Ghazni Province said they killed a regional Taliban commander. Mullah Abdul Rahim Sabauun was killed on October 5, but his death was reported only today. Sabauun was said to have been a high-ranking official during the Taliban rule.
(AP, AFP)
The Afghan Insurgency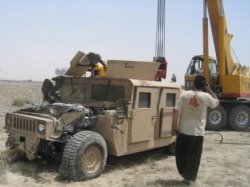 A U.S. military vehicle damaged by insurgents near Kandahar (epa)
HOMEGROWN OR IMPORTED? As attacks against Afghan and international forces continue relentlessly, RFE/RL hosted a briefing to discuss the nature of the Afghan insurgency. The discussion featured Marvin Weinbaum, professor emeritus of political science at the University of Illinois at Urbana-Champaign, and RFE/RL Afghanistan analyst Amin Tarzi.
LISTEN
Listen to the entire briefing (about 83 minutes):
Real Audio
Windows Media
ARCHIVE
RFE/RL's
coverage of Afghanistan
.
SUBSCRIBE
For weekly news and analysis on Afghanistan by e-mail,
subscribe to "RFE/RL Afghanistan Report."