Tajikistan Rations Electricity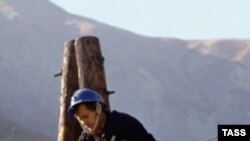 An employee of the national grid operator repairs an electricity pylon (file photo) (ITAR-TASS) October 9, 2006 – Tajikistan will be limiting the supply of electricity to the population to eight hours a day until April.
Officials at the operator of the national grid say the restrictions will come into effect after the holy month of Ramadan ends.
All regions will be affected, with the exception of the capital, Dushanbe.
Tajikistan is negotiating the purchase of extra electricity from Kyrgyzstan, but talks have stumbled on the transit cost through Uzbekistan.
(Avesta, Asia-Plus, Tribun.tj)

RFE/RL Central Asia Report

SUBSCRIBE For regular news and analysis on all five Central Asian countries by e-mail,
subscribe to "RFE/RL Central Asia Report."