The row between the two states was sparked by the arrest last month of four Russian soldiers by Georgian authorities on charges of spying.
Speaking to RFE/RL, Nino Burdjanadze said the arrest was justified and that the package of measures Russia imposed against Georgia was in fact spurred by anger over the recent decision by NATO to raise the status of its dialogue with Georgia.
"We have enough evidence [against the Russian officers], and that's why we gave all the evidence to the OSCE to investigate," Burdjanadze said. "In any case, a more civilized way would have been to first of all discuss the issue. But Russia just wanted to press Georgia, and to punish Georgia because of our [NATO] Intensified Dialogue."
She also said Georgia is ready to negotiate with Russia, but only when Russia decides to build "normal, civilized, and equal" relations with Georgia.
Burdjanadze was speaking at the 10th annual Forum 2000 in Prague, a major international conference exploring ways to avoid conflict.

Moscow And Tbilisi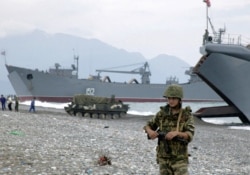 Russian military hardware being withdrawn from a Russian base in Batumi, Georgia, in August 2005 (TASS)

WHAT COMES NEXT? Although Russia is unlikely to push an aggressive military response to the current tensions with Georgia, it has a number of economic, political, and diplomatic options at its disposal. Already on October 1, Russian President Vladimir Putin summoned his inner circle to weigh Moscow's options... (more)
RELATED ARTICLES
Russia Says Georgia Sanctions Will Continue
Russia Suspends Transport, Postal Links To Georgia
EU Commissioner Urges Dialogue With Moscow
Ulterior Motives Seen Behind Escalation Of Spy Row
Georgia Turns Russians Over To OSCE
MORE: Coverage of the situation in Georgian from RFE/RL's Georgian Service and in Russian from RFE/RL's Russian Service.
ARCHIVE
RFE/RL's English-language coverage of
Georgia
and
Russia
.