Afghanistan: NATO Commander Denies Pressuring Pakistani Leader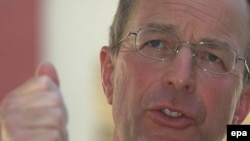 British Lieutenant General David Richards (file photo) (epa) NATO's top commander in Afghanistan has been meeting with Pakistani officials to discuss how to improve cooperation on security along the Afghan-Pakistan border. NATO and Pakistani officials are denying western media reports that Lieutenant General David Richards planned to confront Pakistani President Pervez Musharraf with evidence that some elements within Pakistan's Inter-Service Intelligence agency (ISI) have been training and arming Taliban fighters in Pakistan for cross-border incursions into Afghanistan.
PRAGUE, October 10, 2006 (RFE/RL) -- The British commander of NATO forces in Afghanistan met today with Pakistani President Musharraf to discuss how to boost cooperation in the battle against Taliban fighters.
Lieutenant General David Richards spoke with Musharraf for about an hour today at Army House -- Musharraf's official residence in the town of Rawalpindi near the capital of Islamabad.
There are no plans to use military force against Pakistan over allegations by Afghan and U.S. military officials that the Taliban leadership is sheltering in refugee camps near Quetta -- the capital of Pakistan's Baluchistan Province.
Pakistani Officers In Kabul
Richards says Pakistani army officers will be posted at NATO's headquarters in Kabul soon under an agreement on increased cooperation.
Karim Rahimi, a spokesman for Afghan President Hamid Karzai, tells RFE/RL's Radio Free Afghanistan that Kabul hopes the talks will help bring an end to suicide attacks in Afghanistan.
"The president of Afghanistan has repeatedly said that we should always pay attention to the main sources, training centers, and financial resources of terrorism -- and that those should be targeted," he said. "We should seriously focus on the centers where terrorists are trained and armed. And also, we should take action against them, wherever they are. This is our position."
Richards denied media reports that he plans to confront Musharraf with evidence of covert Pakistani support for Taliban fighters who cross into Afghanistan to carry out terrorist attacks.
In an interview with Pakistani television channel Geo News today, taped before his talks with Musharraf, Richards said he is visiting Pakistan in the "spirit of cooperation" -- not confrontation.
Series Of Regular Meetings
Mark Laity, NATO's civilian spokesman in Afghanistan, tells RFE/RL's Radio Free Afghanistan that today's talks are part of a series of meetings bringing together Afghan, Pakistani, and NATO officials.
"It's about finding ways of cooperating better through crossborder cooperation -- for instance, coordinated patrolling, exchange of critical information, and so on," he said. "That's what's going on. So yes, there is a problem on the border. Yes, the problem in Pakistan is [that] there are Taliban there. And President Musharraf himself acknowledges this. The thing is for Pakistan, Afghanistan, and ISAF to work together to solve that problem."
Laity says there are no plans to use military force against Pakistan over allegations by Afghan and U.S. military officials that the Taliban leadership is sheltering in refugee camps near Quetta -- the capital of Pakistan's Baluchistan Province.
"Pakistan is an independent sovereign nation," Laity said. "So there is no way that NATO or ISAF is going to go and bomb anything in Pakistan. The information as to whether there are camps in Quetta that involve the Taliban is one issue. Regardless of that, we are in a cooperative process with Pakistan. And we are not about to go and bomb a sovereign nation. That would be completely inappropriate and there are no plans -- zero plans -- to do anything of that kind."
Coordinate, Consult, And Review
Pakistan Foreign Office spokeswoman Tasneem Aslam stresses that Richards' visit is part of regularly scheduled meetings of the so-called Tripartite Commission -- which groups together security officials from Afghanistan, Pakistan, and NATO.
"NATO officials -- the Central Command officials -- continue to visit Pakistan frequently," he said. "And this is basically to coordinate our joint efforts, to consult, and to review the situation."
Richards took charge of the NATO-led International Security Assistance Force in Afghanistan last week. He now commands more than 31,000 troops from 37 countries -- including about 12,000 U.S. soldiers who previously had fought under the auspices of the U.S.-led counterterrorism coalition in Afghanistan.
The visit to Pakistan is Richard's first trip outside of Afghanistan since he became the top ISAF commander. The next meeting of the Tripartite Commission is scheduled in Afghanistan in the coming weeks.
(Contributors to this story include RFE/RL's Radio Free Afghanistan correspondents Mustafa Sarwar and Ahmad Takal in Prague and Nasim Shafaq in Kabul.)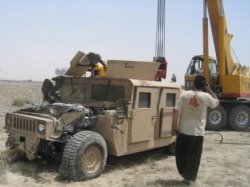 A U.S. military vehicle damaged by insurgents near Kandahar (epa)
HOMEGROWN OR IMPORTED? As attacks against Afghan and international forces continue relentlessly, RFE/RL hosted a briefing to discuss the nature of the Afghan insurgency. The discussion featured Marvin Weinbaum, professor emeritus of political science at the University of Illinois at Urbana-Champaign, and RFE/RL Afghanistan analyst Amin Tarzi.
LISTEN
Listen to the entire briefing (about 83 minutes):
Real Audio
Windows Media
ARCHIVE
RFE/RL's
coverage of Afghanistan
.
SUBSCRIBE
For weekly news and analysis on Afghanistan by e-mail,
subscribe to "RFE/RL Afghanistan Report."