Russia Will Not Revoke Total License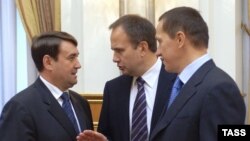 Natural Resources Minister Yury Trutnev (right) during a cabinet meeting (ITAR-TASS) October 12, 2006 -- Natural Resources Minister Yuri Trutnev says Russia is not seeking to revoke the license of the French company Total to tap the Kharyaga oil field.
A senior official in Trutnev's ministry said last month that Total's license was being reviewed.
Russia is probing several Western-led energy developments in what some analysts say is a bid to secure a bigger role for domestic companies.
(AP)



UPDATED CONSTANTLY: Visit RFE/RL's Russian-language website, featuring news, analysis, features, streaming audio, and more, in Russian, from RFE/RL's Russian Service.
ARCHIVE
RFE/RL's English-language
coverage of Russia
.