Firms from Russia and elsewhere in the CIS are among the latest to head to London to launch initial public offerings (IPOs) -- their first sale of stock to the public.
Interest In Russia, Kazakhstan
Earlier this summer, Russia's Rosneft oil company earned upward of $10 billion in its London IPO, launched on July 19.
On September 28, a subsidiary of the Kazakh gas giant KazMunaiGaz, brought in a healthy $2.3 billion in a similar offering.
That result has some market experts speculating that foreign investors are increasingly looking for rich rewards in lesser-known corners of the former Soviet Union -- and bypassing Russia, which has proven a capricious investment partner.
For Kazakhstan and other former republics, the future seems looking bright.
"I would imagine that their opportunities -- regardless of the Russian situation -- are very good," says Matthew Maxwell-Scott, a specialist on CIS markets at the Confederation of British Industries, a forum for business-watchers and entrepreneurs.
Sakhalin And Yukos
He says confidence in Russian companies is taking a beating following Moscow's move to renegotiate its production-sharing agreements with Royal Dutch Shell and other foreign firms involved in massive oil and liquefied-natural-gas projects in the remote Sakhalin region.
The Rosneft IPO, he says, was somewhat hampered by doubts over the legality of the company's appropriation of a subsidiary of Yukos, the former oil giant systematically dismantled by the Kremlin following the arrest of its CEO, Mikhail Khodorkovsky.
Khodorkovsky was jailed on tax-evasion charges Yukos said were politically motivated.
Russia's reputation is still recovering from the Yukos affair, Maxwell-Scott says. And yet, the current controversy over Sakhalin shows the Kremlin still hasn't taken the lesson to heart.
"It doesn't do an enormous amount for investor confidence. I think we don't want to see the Russian government strong-arming foreign investors with the sort of behavior we've seen," Maxwell-Scott says.
Shopping Around The Region
Other experts agree such scenarios may send investors searching for opportunities elsewhere in the CIS.
Charles Movit is a specialist on Russia and the CIS at the Global Insight market consultancy in Washington, D.C. He says the Sakhalin debacle may mean a setback for Russia -- and could lead to a rise in investment for its neighbors.
"It certainly decreases investor confidence in Russia," Movit says. "And if your interest is in that part of the world, then I guess it would increase interest in other areas, in other countries of the region."
Several IPOs from the region are expected to generate considerable interest this fall.
Russia's No. 1 and No. 2 aluminum companies, RusAl and Sual, are expected to issue an IPO in the coming months after they complete a merger.
Kazakhstan's Kazkommertsbank commercial bank and the natural-resources group ENRC Kazakhstan will also be holding IPOs.
As for other resource-rich CIS countries, Movit says there are many sites of interest to potential investors. The question, he says, is how accessible they are, and how transparent the dealings will be.
"It also depends on where the resources are located," Movit said. "Turkmenistan has got a lot of gas, but it can only get it out through Russia's pipelines. You've got to have a market for what you're producing as well and the way to get it there cost-effectively. So all that matters, as well as government policies."
Russia's Gas Strategy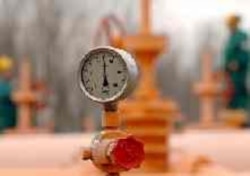 RUNNING HOT AND COLD The crisis over Russian supplies of natural gas to Ukraine that erupted on New Year's Day has implications that spread well beyond these two countries and will impact both economic and political policymaking throughout Europe. On January 19, RFE/RL's Washington, D.C., office hosted a briefing the examined the ramifications of the natural-gas conflict.
CLIFFORD GADDY, a senior fellow at the Brookings Institution, outlined Russia's "grand energy strategy," in which Ukraine is perceived as merely an obstacle frustrating Russia's energy ambitions in Western Europe and therefore a nonentity in Russia's broader strategic planning. According to Gaddy, Russia's strategic goal regarding energy is to maximize the role of its own energy resources in the world energy markets, so as to increase its geopolitical influence. To do this, it must reduce competition and maximize dependency on its own energy resources, as well as ensure a stable supply.
TARAS KUZIO, a visiting assistant professor at George Washington University, rebutted Gaddy's argument, claiming that Russia's actions evidenced a complete lack of geopolitical strategy and resulted in strong denunciations by Western countries and a loss of political allies in Ukraine. According to Kuzio, Russian President Vladimir Putin's desire to have a deal signed by the January 4 European Union energy summit outweighed his hope of reinforcing opposition to Ukrainian President Viktor Yushchenko during the run-up to Ukraine's March 26 parliamentary elections.
RFE/RL Coordinator of Corruption Studies ROMAN KUPCHINSKY did not fully agree with Kuzio's assessments of Yushchenko or Ukraine. He outlined three major problems that are feeding the conflict between Russia and Ukraine. The biggest, he argues, is that the state-controlled Russian gas giant Gazprom holds a monopoly on natural-gas sales outside the CIS. Kupchinsky also decried Ukraine's consumption of natural gas, terming it "out of control." Corruption is also a major factor in the conflict, Kupchinsky said, although the extent to which it taints the deal struck between Russia and Ukraine remains unknown.
LISTEN
Listen to the complete panel discussion (about 90 minutes):
Real Audio Windows Media
RELATED ARTICLES