Russian authorities last week revoked a key environmental permit for the big Sakhalin-2 project. On September 26, Natural Resources Minister Yury Trutnev said the project was riddled with environmental violations.
Lavrov today said the checks will not necessarily lead to the revoking of the project's license.
"The checks that are being carried out in no way mean that licenses for developing deposits as part the Sakhalin-2 project will be withdrawn," Lavrov said. "The goal of these checks is to make sure that agreements are fully complied with by all parties. Assertions about the production-sharing agreement being revised and especially about foreigners being forced out of Russia's fuel-and-energy sector have no basis whatsoever."
Analysts saw Russian authorities' pressure on Shell as a means to secure better terms for state-controlled Gazprom, which is seeking to join the project.
(Interfax, AP)
Russia And Global Energy Security
Russia And Global Energy Security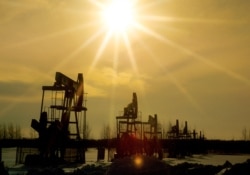 An oil field in Russia's Republic of Bashkortostan (TASS file photo)


ENERGY SECURITY is increasingly moving to the top of the EU's agenda in its dealings the outside world. A recent report identifies the European Union's main energy objectives as not just securing gas and oil deliveries from Russia, but also ensuring that it has reliable alternative sources, including in Central Asia. Nonetheless, EU officials say relations with Russia take center-stage in their thinking....(more)
RELATED ARTICLES
EU Maintains Codependent Energy Relationship With Russia
Turkmenistan: The Achilles' Heel Of European Energy Security
U.S. Official Urges Reforms In Energy-Producing Countries
ARCHIVE
A
complete archive
of RFE/RL's coverage of energy issues in the Caspian Sea region and Russia.