The independent website ferghana.ru reported the sentencing today, but did not say when the verdict was reached.
The 28-year-old Salimov -- also known as Iskandar Agzamov, or Scan Multi -- was
found dead
in his Tashkent apartment in June.
The motive for the killing was not immediately clear.
Central Asian Cinema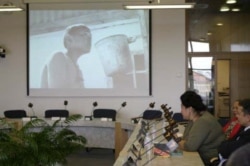 Gulnara Abikaeyeva's June 29 presentation in Prague (RFE/RL)
EAST OF THE WEST:
On June 29, RFE/RL's Prague broadcasting center hosted a presentation by
GULNARA ABIKEYEVA
, director of the Central Asian Cinematography Center in Almaty, Kazakhstan. Abikeyeva is a leading expert on Kazakh and Central Asian cinema, a chairwoman of the jury of this year's East Of The West section of the Karlovy Vary film festival. Abikaeyeva gave an overview of major trends in Central Asian cinema since the 1960s. Abikeyeva has just completed a major DVD collection of the most popular films of the five Central Asian countries and is now beginning work on a similar collection of Central Asian documentaries.
LISTEN
Listen to the complete presentation (45 minutes):

Real Audio
Windows Media
Other Articles On Central Asian Culture:
Silk Road Revival Grows As More Sites Protected
Central Asian Directors Discuss Issues Behind The Camera
Ancient European Music Meets Central Asian Masters
Central Asian Masters Revive Old Ways Of Teaching Traditional Music
ARCHIVE
To view an archive of RFE/RL's reporting on culture throughout its broadcast area, click here.


THE COMPLETE STORY: Click on the icon to view a dedicated webpage bringing together all of RFE/RL's coverage of Kazakhstan, Kyrgyzstan, Tajikistan, Turkmenistan, and Uzbekistan.