LUXEMBOURG, October 17, 2006 (RFE/RL) -- European Union foreign ministers meeting in Luxembourg on October 17 sharply criticized Russia for the economic blockade and other measures it imposed on Georgia in the wake of a diplomatic spat between the two countries.
The move was a departure from the neutral stance the EU has maintained since Russia hit out at Georgia in the wake of Tbilisi's arrest of four Russian officers on spying charges. However, EU officials were quick to stress that the EU does not want to damage its long-term relations with Russia.

The declaration adopted by EU foreign ministers was intended to provide diplomatic cover for Georgia, but is unlikely to herald any radical reassessment of EU-Russia relations.

The criticism is remarkably sharp, particularly by recent EU standards. After the meeting, the EU's external relations commissioner, Benita Ferrero-Waldner, stressed that the EU considers Russia's measures against Georgia to be excessive and unjustified.

"The measures that were taken against the Georgians working in Russia -- and especially against the schoolchildren in Russian schools -- as well as also the pressure on Georgian-owned business, but also the economic sanctions and the severed transport links, the ban on the imports, the closure of the borders -- all these are extremely worrying," Ferrero-Waldner said.
Ferrero-Waldner went on to note that the Russian measures "cannot contribute to a return to calm" in the relations between the two countries and "should be lifted."

However, the EU is unlikely to take additional action. The main value of the declaration for Georgia will be the guidance it provides EU officials -- such as foreign policy chief Javier Solana and the South Caucasus Special Representative Peter Semneby -- in future statements on the issue.

Even as they made their declaration, EU officials were working to limit its inevitable effect on EU-Russia relations. Erkki Tuomioja, foreign minister of Finland, which currently occupies the rotating presidency of the EU, downplayed media reports of divisions among EU member states. Many fear such splits could provide ammunition to Russian President Vladimir Putin when he meets with EU leaders in Lahti, Finland on October 20.
Tuomioja said "the ministers had no trouble whatsoever" in reaching an agreement and that there was "total unanimity on them and on the thinking behind them."

However, well-placed EU sources told RFE/RL that the wording of the statement on Georgia was bitterly contested by member-state ambassadors in Brussels last week. While the Nordic and Baltic countries -- backed by some of the Central European states -- sought to include tough criticism of Russia, traditional Moscow allies France, Italy, Portugal, and Greece were equally keen to ward it off.

Another meeting of the same EU ambassadors earlier in the day resulted in a compromise. The criticism of Russia remained, but detractors -- led by France -- inserted a reference to a UN Security Council resolution that was critical of Georgia's approach to the conflicts in South Ossetia and Abkhazia. One senior EU source told RFE/RL that in a final minor, but significant, triumph, Georgia's EU supporters successfully fought off an attempt to have the reference placed in the same paragraph containing the EU's condemnation of Russian sanctions.

But even if EU leaders are able to speak to Putin with one voice on October 20 -- which would deny him the opportunity to capitalize on their internal divisions -- the EU remains deeply in need of Russia's cooperation in the longer term. This necessarily limits the extent to which countries like Georgia can count on EU support against Moscow.

Commissioner Ferrero-Waldner made this clear today, saying the EU is seeking a "balanced approach."

"I think we make very clear to the eastern members of the neighborhood policy that drawing them closer to the European Union does not mean neglecting our relations with Russia," she said. "On the contrary, I think it is highly essential that Georgia and Ukraine, for instance, as also important neighborhood countries [retain] strong relations also based on trust with their other big neighbor."

The EU is increasingly dependent on Russian oil and gas, Moscow's collaboration in the UN Security Council is essential to EU-backed drives to contain the nuclear ambitions of North Korea and Iran and secure the future of Kosovo, and the EU's larger member states, headed by Germany and France, see Russia as an indispensable strategic geopolitical partner.
Moscow And Tbilisi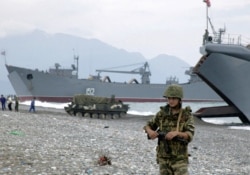 Russian military hardware being withdrawn from a Russian base in Batumi, Georgia, in August 2005 (TASS)

WHAT COMES NEXT? Although Russia is unlikely to push an aggressive military response to the current tensions with Georgia, it has a number of economic, political, and diplomatic options at its disposal. Already on October 1, Russian President Vladimir Putin summoned his inner circle to weigh Moscow's options... (more)
RELATED ARTICLES
Russia Says Georgia Sanctions Will Continue
Russia Suspends Transport, Postal Links To Georgia
EU Commissioner Urges Dialogue With Moscow
Ulterior Motives Seen Behind Escalation Of Spy Row
Georgia Turns Russians Over To OSCE
MORE: Coverage of the situation in Georgian from RFE/RL's Georgian Service and in Russian from RFE/RL's Russian Service.
ARCHIVE
RFE/RL's English-language coverage of
Georgia
and
Russia
.