The Russian authorities say that the vast majority of them have been deported for immigration violations. But because rail and air links are still suspended between the two countries, deportees have had to take alternative routes back home. Many have ended up in Minsk, Yerevan, or Baku.
The Russian media has tended to characterize the deportees as common criminals. And that, say many of them, is precisely how they end up feeling.
Up To One Million Georgians In Russia
Georgian citizen Dachi Kvikvinia, who was living and studying in Moscow, is now back in Zugdidi, a city in western Georgia. He says he spent 11 years in Moscow with his family.
"They put deportation stamps in our passports. People and airport staff in Yerevan were staring at us as if we were ill with leprosy," Kvikvinia says.
There are thousands just like Kvikvinia -- although it isn't clear exactly how many. There are an estimated 400,000 to 1 million people Georgians living and working in Russia, legally and illegally.
The remittances those workers send home is considerable. Georgia's Central Bank estimates Georgians transferred $220 million from Russia to Georgia in the first half of 2006 -- accounting for nearly 15 percent of Georgia's GDP. Russia says the figure is considerably higher.
Crackdown
The deportations are the latest in a series of measures against Georgian migrants, including the tightening of immigration controls and raids on Georgian-owned businesses.
Some of those deported have said the Russian authorities had no justification as their papers were in order. But Otari, a Georgian citizen who arrived in the Azerbaijani capital Baku by train, does not deny he was working illegally.
"It's all politics. I don't understand politics. I'm just a regular working man. Yes, I was working [in Russia] illegally and that's why I got deported," Otari said.
Most of the deportees have had to fend for themselves -- which means, of course, paying for their return home.
Maguli Legishvili, who spoke to RFE/RL upon arrival in Baku, says the authorities immediately gave her 10 days to get out. "They said, 'You're citizens of Georgia. Go to your Saakashvili,' and that's all. And so we bought a ticket to Baku and came here. It was hard. We'll be going to Tbilisi now," Legishvili says.
Georgian parliamentarians have unanimously declared the deportations to be "xenophobic" and "ethnic discrimination." They say that Russia's measures are an expression of its anger at Tbilisi's closer relationship with NATO.
But Russia has defended itself, saying it is rightfully deporting illegal immigrants -- just as other countries would.
Expected EU Statement
So far, the international community has been cautious to weigh in on either side.
Meeting in Luxembourg today, EU foreign ministers were expected to adopt a declaration that many say will be critical of Russia's pressure on Georgia.
Speaking at a press conference, EU External Relations Commissioner Benita Ferrero-Waldner said today that the EU is "extremely worried" about the current situation.
"We are gravely concerned about the continuing tensions between Georgia and Russia, and the measures taken against Georgians, for instance, working in Russia or especially schoolchildren in Russian schools, as well as also the pressure against Georgian-owned businesses, and also the economic sanctions -- severed transport links, bans on imports, closure of the borders," Ferrero-Waldner said.
Welcome words for those Georgians still in Russia, perhaps. But for those already deported, they will be little comfort.
For others it is already too late. Tengiz Togonidze, a 58-year-old Georgian citizen accused of being an illegal immigrant, died today while undergoing a deportation hearing at a Moscow airport.
(RFE/RL's Armenian, Azerbaijani, and Georgian services provided the material for this feature.)
Russia And Georgia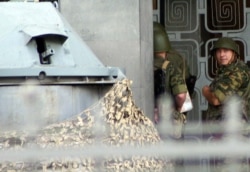 Beefed up security outside Russian military headquarters in Tbilisi on September 27 (InterPressNews)
NOT ALL WINE AND ROSES.
Moscow's relations with Tbilisi since the collapse of the Soviet Union have often been tense and strained. Among the issues that have made the relationship difficult are Moscow's alleged support for the breakaway Georgia regions of Abkhazia and South Ossetia, as well as the continued presence of Russia troops on Georgian territory. Periodically, Georgian lawmakers propose withdrawing from the Commonwealth of Independent States (CIS) altogether. RFE/RL has written extensively about the rocky relationship between these two countries.
RELATED ARTICLES
Saakashvili Seeks Meeting With Putin
Russian-Georgian Friendship Still Warm, Despite Frosty Politics
Georgia To Assess Repercussions Of Quitting CIS
Russia Impounds Georgian Mineral Water
Georgian Agriculture Minister In Moscow For Talks On Wine Ban
Russia Pledges To Complete Georgia Pullout On Schedule
ARCHIVE
RFE/RL's complete coverage of
Georgia
and
Russia
.