Foreign NGOs Face Deadline To Reregister In Russia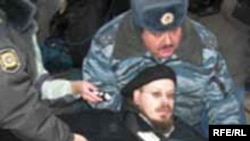 Police arrest a demonstrator protesting in December 2005 against the new NGO law (RFE/RL) October 18, 2006 -- Foreign nongovernmental organizations in Russia must reregister with the Russian authorities by the end of October 18 or face being closed down.
The Kremlin tightened the rules on foreign NGOs in April, accusing some of being unduly influenced by foreign governments.
NGOs say the move is part of a campaign to crack down on groups critical of the Kremlin.
(AFP)